Jaxon Rigdon, AKA Attikos, Goes from ROTC to Rap to Killing Mockingbirds
Orlando resident Jaxon Rigdon grew up with dreams of becoming a Navy Seal but life pushed him in a different direction. Now he boldly announces his arrival on the hip-hop scene with the release of the booming new music video "Mockingbird," which takes aim at being more than just another party song. The artist states, "I strive to balance easy-listening tunes with music that delivers a powerful punch with lyrical substance."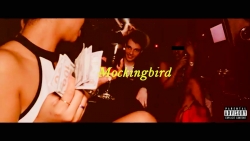 Orlando, FL, May 10, 2018 --(
PR.com
)--
www.youtube.com/watch
Have you ever arrived at a fork in the road with a burning desire to go both directions? Local artist Jaxon Rigdon knows that feeling all too well. To his left, Jaxon faced a steep road difficult to climb, a collegiate ROTC program and dreams of arriving at Navy Seal Headquarters. To his right was a bumpy, winding, seemingly never ending slippery slope where only a few could hope to arrive at Grammy Central. The starting point of these disparate paths was a home where patriotism and a mix of religious and military history shared the space with a willingness to embrace new ideas. Jaxon's home life encouraged free thinking and exposure to art not readily accepted by everyone. It wasn't unusual to hear grandpa tell stories about his twenty-year tenure in the Navy while Eminem invited you to a "Square Dance" in the background. Sometimes if you're a young man driven to succeed, fate, in the form of an unforeseen medical condition, makes the choice for you. Perhaps this choice pushes you toward the release of a consequential hip-hop video that makes it clear to everyone you turned right at the fork.
Attikos considers himself a lyricist, an MC. His art emerged from a variety of early influences ranging from MF DOOM, Rakim, and Big Pun for starters. Both the song title and the artist's name, itself a homophone, summon memories of the classic literary masterpiece "To Kill a Mockingbird." While the book challenges one's thoughts by introducing interesting characters, metaphors, and topics of social importance, so too this novel song places various themes in the forefront in a way that only rhythm and music truly can. Rather than promote a specific message, the lyrics are left to interpretation, pushing the envelope with bars that boast the artist's claim to become the best at what he does as he shows listeners how to "Kill the Mockingbird."
Contact
Attikos
Jaxon Rigdon
651-395-1908
www.ageofattikos.com

Contact