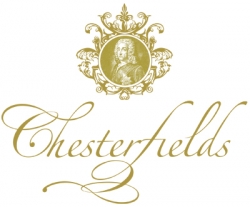 Manchester, United Kingdom, March 07, 2008 --(
PR.com
)-- As one of Britain's earliest traditional chair makers,
Chesterfields 1780
has come into its own as the premier luxury furniture manufacturer in the UK. Building upon the woodworking traditions of old, Club Chesterfield has now been dubbed Chesterfields 1780 in commemoration of its 18th century origins.
"We have come a long way since our ancestors small 18th century workshop" said Managing Director Paul Fleming at the inauguration of his new showroom in the northwest of England. He added, "Today, we are the leading luxury chair supplier in the United Kingdom, a fitting culmination to our family's passionate endeavour".
A winning amalgam of traditional workmanship and 21st century technology, Chesterfields 1780 was originally founded as Fleming and Howland. Employing a handful of highly skilled craftsmen, the concern created beautiful creations that were meticulously crafted and fused with hand-coloured upholstery. Fleming and Howland received acclaim from discerning patrons around the country, continuing to this day in the production of some of the most exquisite furniture in the country.
Today, the firm creates beautiful pieces of craftsmanship with the same passion and vigour as in the olden days. Timeless pieces of art imbued with an extravagant appeal, traditional
Chesterfields chairs and sofas
are some of the most cherished family heirlooms in Britain.
Located in South Manchester, Chesterfields 1780's new showroom will provide furniture connoisseurs further liberty to experience the grand Chesterfields collection in person, enabling easier enjoyment and procurement of the glorious leather furniture items.
The company has also launched a new website, www.chesterfields1780.com with an aim to providing worldwide exposure to its traditional product line. The website features an electronic ordering system, including images and descriptions of all its crafts.
To further underscore its resolve to encourage appreciation of the inimitable furniture variety, Chesterfields1780 has also commenced a complementary chauffeur service to and from Manchester International Airport in order to better serve its esteemed patrons.
###