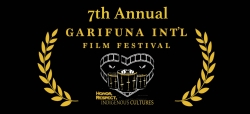 Los Angeles, CA, May 21, 2018 --(
PR.com
)-- 40 Feature Films, Documentaries, and VR Projects–the Topics of Which Span 60 Countries–to Premiere at this year's GIIFF, Along with Several Musical Performances and an Engaging Symposium on the Wisdom and Lessons of Indigenous Cultures
Who: Standing out as a respected cultural ambassador among indigenous communities around the world, the Garifuna International Indigenous Film Festival (GIIFF) is returning to Venice, California, for its 7th annual event this coming May 25, 2018. Founder, Executive Director and Garifuna indigene, Freda Sideroff and her husband Dr. Stephen Sideroff, are excited and honored to once again be able to showcase a wide range of films and documentaries created by award-winning Garifuna filmmakers, noteworthy cultural activists and other indigenous people. Included in the program are submissions from Micki Dickoff to receive Lifetime Achievement Award to be awarded to Director Micki Dickoff's documentary Short The Gathering. Q & A follows.
World Premiere NIRAU All-Star Garifuna Cast Director Christopher Miles Garifuna Writer Angel Valerio
World Premiere The Kingmaker of the Mughal Empire Feature Documentary Director Avnish Rajvanshi
World Premiere A Piece of Germany Documentary Feature Director Ela Beken
World Premiere Mishkeegogamang Documentary Shorts Director Jon Wesselink
World Premiere LIBORIO An artist of the Solomon Islands Documentary Shorts Director Elliot Spencer
World Premiere Craigleith Heritage Depot Canada Documentary, shorts Director Tom Strnad
World Premiere The Sun on Top of the House Documentaries Canada Shorts Director Farhan Umedaly
World Premiere Life in a Fist Full of Rice Documentary India Director Tashi Gyamba
World Premiere Malati Kata (Malat's Tale) Shorts India Bengali Director Manish Ghosh
World Premiere GRATEFUL Music Video Director Piper Dellums
US Premiere Be the Jam the Never Ending Song Documentary Shorts Director Cyprien Ponson
Los Angeles In the Beginning was Water & Sky Shorts Director Ryan Ward
US Premiere Language Animation Director Mortada Gzar
Los Angeles Premiere M.I.A. A Greater Evil Foreign/International Feature
Los Angeles Premiere CRAZYWISE Documentary Director Kevin Tomlinson, Phil Borges Q & A Trailer https://vimeo.com/199757727
Venice Premiere What's You Number Shorts Drama, Historical Fiction Director Sigal Erez Q & A
LA Premiere Beyond Grace Documentary Feature film Runtime 78 minutes Director Sara Baur Harding
Burning Paradise/Por La Necesidad Director Greg Rainoff among others
What: This year's GIIFF is a five-day event that acts as a platform to bring together the indigenous from around the globe, converging in Southern California to discuss and witness, through film and video, many of the important topics facing their communities. The overwhelmingly comprehensive GIIFF program includes features and short films, documentaries, VR projects, panel discussions, and cultural presentations by some of today's most respected indigenous-focused filmmakers and activists. The 40 films covering these various genres feature topics spanning 60 countries and will be screened throughout the five-day event. These films run the indigenous-focused creative gamut, and range from documentaries about how various indigenous groups' past experiences with human rights violations have affected their present lives, the challenging and often beautiful rediscovery of indigenous cultural roots, community collaboration aimed at bringing forth resolutions and unity between cultures, as well as sectional biographies of many important human rights activists. The list of actors and public figures involved in these films is also worthy of note, and Director Bill Duke Sister Act 2, Hoodlums, Deep Cover, Not Easily Broken, Director Greg Rainoff Emmy Winner, Lifetime Achievement Award Honoree, Micki Dickoff, Neshoba:The Price of Freedom, Bush's Deadly Ambition, and Step By Step), Actor and Director, Bill Duke, (Sister Act 2, Hoodlums, and Deep Cover), Filmmaker and Director, Duc Nguyen (BOLINAO 52, STATELESS), and Writer, Producer, and Oscar Award Winner, Victoria Mudd (Broken Rainbow, Tibet: Cry of the Snow Lion) Deepak Chopra, Michael Beckwith, Sharon Stone, Mark Wahlberg, Vendana Shiva, Jean Houston, Barbara Marx Hubbard, Sandra Ingerman, Sharon Stone and many more.
When: Begins: 7:00 PM (PST) Friday, May 25, 2018 Concludes: 8:50 PM PST Saturday, June 3, 2018
*Festival activities occurring May 25, 26, 27 and June 2-3, 2018
Where: Electric Lodge Theater 1416 Electric Avenue Venice, CA 90291
Why: The GIIFF was founded in 2012 with a mission to preserve the values and aspirations of all indigenous people and Garifuna cultures. Founded by Freda Sideroff, an indigene of the Garifuna, the GIIFF acts to support the preservation of all indigenous cultures in the world through art and film, while providing an annual event where leaders and members of the community are recognized for their contributions to the betterment and elevation of the dignity of humanity. At a time when Western civilization is struggling with global problems, the GIIFF showcases important lessons to be learned from indigenous cultures such as interconnectedness, the wisdom of our elders, sustainable living and how to exist in harmony with nature.
Please visit garifunafilmfestival.com/volunteerform or email us at info@garifunafilmfestival.com to help support our quest to share the plight of our most ancient cultures from around the world, explore their wisdom, and honor their legacy.
Complete GIIFF Event Schedule: https://www.eventbrite.com/e/7th-annual-garifuna-international-indigenous-film-festival-tickets-43715214383
For tickets to attend and more information: garifunafilmfestival.com
To request Media Credentials or Sponsorship information, contact:
Eulogia Goree, Media - media@garifunafilmfestival.com
Darlene Hunt, Sponsorships info@garifunafilmfestival.com
Phone: (310) 663-5813
Email: garifuna@garifunafilmfestival.com
Facebook: Facebook.com/dabuyaba
Instagram: Instagram.com/officialgarifunafilmfestival
Twitter: @GarifunaI
**Please note this release does not guarantee free attendance.**