AloeVeritas Announces Preliminary Data from Ongoing Phase 1 Observational Study of AloeMD
AloeVeritas Announces Preliminary Data from Ongoing Phase 1 Observational Study of AloeMD (a drug-less pain disruptor) Showing Strong Evidence of Significant Results in Participants with Acute and Chronic Pain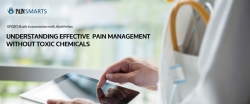 Dallas, TX, May 24, 2018 --(
PR.com
)--
AloeVeritas
, a leader in discovering, developing and advancing natural botanical compounds with the potential to address the unmet need that exists for consumers experiencing chronic pain with little to no long-term relief from common pain modalities, today announced preliminary data from its ongoing Phase 1 Observational Study of AloeMD. AloeMD is a drug-free analgesic containing a patented 100% natural pain disruptor and reliever formulated in an orthomolecular compound, which targets the extra cellular matrix through a novel mechanism of topical smart absorption delivery technology, allowing the body to ultimately repair itself, naturally, without the use of opioids or toxic chemicals.
The new data from the initial dose and application portion of the Phase 1 study showed strong observational activity regardless of demographic variations, prior treatment with prescription medications or the presence of acute or chronic pain maladies.
As of the date May 21, 2018, a remarkable pain control rate of 87 percent was found in participants evaluable for response, based on the Global Professional Observational Organizations's (GPOSO) consensus criteria. The overall response rate is currently 72%. As of the data cutoff date, AloeMD was well-tolerated with no adverse events reported during the study period. In addition, there were no discontinuations due to treatment-related adverse events, and 89 percent of participants remained on treatment with an overall satisfaction rate of 83 percent. The data is presented in real-time calculations on the AloeVeritas' PainSmarts official webpage @
www.painsmarts.org
.
Based on these data, AloeVeritas plans to continue to engage global studies in the second half of 2018. In addition, AloeVeritas continues to enroll participants in the expansion portion of the ongoing Phase 1 observational study in participants with acute to chronic pain with the goal of generating additional data in 2018.
"The new observational study results for AloeMD represent an exciting milestone for the drugless pain relief community. The data showed a remarkably high response rate and a favorable tolerability profile, suggesting AloeMD has the potential to transform the future of pain relief by utilizing natural ingredients that may help to eliminate the overuse of Opioids, Steroids or NSAIDS in the majority of the population," said Christopher Hardy, CEO of AloeVeritas. "The data also provides strong evidence that targeting inflammation and extracellular matrix instability - a pain-driver present in nearly all participants across the spectrum of the study - is a potentially important treatment strategy that may offer consumers improved outcomes with continued use. These data strongly support continued development of AloeVeritas' unique aloe-based ingredients in multiple product offerings across a broad population of participants with multiple chronic conditions."
For more information on AloeVeritas and PainSmarts, please visit the company's web site at
www.aloeveritas.com
or to volunteer as a study participant visit
www.painsmarts.org
or call 1-833-Tru-Aloe to speak to a customer care representative.
Contact
AloeVeritas Americas, LLC
Jillian Corley
833-TRU-ALOE
www.aloeveritas.com

Contact