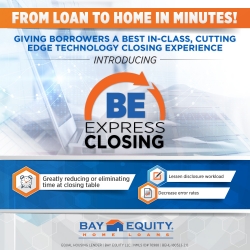 Sausalito, CA, May 26, 2018 --(
PR.com
)-- Bay Equity Home Loans' new e-signing platform promises to reduce time spent at the closing table from hours to mere minutes.
"BE Express Closing," turns the major undertaking of manually signing closing documents into a virtual piece of cake, says Sue Melnick, Bay Equity's Chief Compliance and Operations Officer.
"Until now, home loan borrowers paged through a stack of documents, affixing hundreds of signatures. They got tired, their hand got tired," Melnick said. "For borrowers it's just a lot easier, and everybody's a lot happier."
Depending on state regulations where the loan is originated, BE Express provides two distinct e-signing options.
"Full e-close" borrowers sign their name once or twice, and the system populates the rest, while "hybrid" closing requires certain documents to be printed out and hand signed.
Either way, it's going to make closing easier for everyone as the industry moves toward full mortgage digitization, Melnick said.
Bay Equity Chief Executive Officer Brett McGovern adds, "We're very excited about this platform coming to fruition. It's an even better tool to fulfill our promise to our borrowers - do it well, close it on time and close it fast."