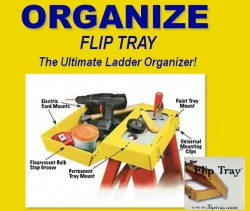 Mesa, AZ, May 29, 2018 --(
PR.com
)-- FlipTrayTM: A tool for stepladders.
The stepladder just got more practical; just got a new utility. While most of us are familiar with the common stepladder, very few use it fully, primarily because of its "up and down" nature. But now available is a new tool, The FlipTrayTM. No tools are needed to use it. But one may use it to hold one's tools: hardware, paint, fluorescent bulbs, and countless other items. It can be attached temporarily or permanently. Stepladders may be stored with the FlipTrayTM attached. The FlipTrayTM may be used in industry or at home. It fits ninety-five percent of all stepladders - top caps sized 12.25 x 5.00 up to 14.50 x 6.50 (inches). It holds two gal. of paint worth of weight and is tested for stress, load deformation and weathering. Jobs may be completed safer, and better. And stop the "Up and Down."
$34.95 / Free Shipping
Available at:
www.fliptray.com
Amazon
eBay
No Assembly Required
Product Profile:
Product Name: FlipTray
Weight: appx 3.5 pounds
Accommodates ladder top caps 12.25 x 5 up to 14.5 x 6.5 (all in inches)
Components: Made from engineering plastic and hardened metal components
Product testing - Durability: IMTL @ ASU College of Engineering & Applied Science, Tempe AZ
Product testing – Weathering: Q-Lab, Buckeye, AZ
Patents: 5,873,433 / 6,443,260
When product deployed - holds up to 40 lbs. of gear – tested out at appx. 120 lbs.
Packaging: Individual
Pricing: $34.95