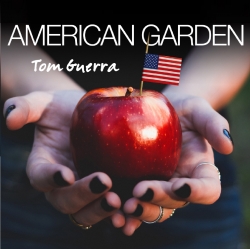 Hartford, CT, June 05, 2018 --(
PR.com
)-- Introducing "American Garden"
"American Garden" is the third solo album from former Mambo Sons guitarist Tom Guerra, following the success of "All of the Above" (2014) and "Trampling Out the Vintage" (2016). According to Guerra, shortly after "Trampling..." was released, his longtime friend, The Yardbirds' bassist extraordinaire Kenny Aaronson asked him to collaborate on some original songs for the upcoming Yardbirds studio album, scheduled to be produced by Jack Douglas later in the year. For the next several months, the two shared ideas and started to develop and record songs based on the best attributes of The Yardbirds' music – socially conscious lyrics, rock and roll guitar riffs, a bit of blues harmonica and some strong hooks.
In addition to writing with Kenny, Tom continued to develop more original material, as he said there were "so many things to write about." Real world inspiration produced many of these tunes, including the title track, which was written after some long conversations Tom had with several Vietnam vets – the verses are their stories, and the chorus is Guerra's take on the machine that sends young men and women to war. In addition, "The Lyin' King" and "Blood on the New Rising Sun" were written about modern day American, and both "Jack for Joe" and "Meet Me at the Bottom of Your Glass," about lost friends.
"Meet Me at the Bottom of Your Glass" is Guerra's take on a Tom Waits-styled piano and vocal tune. Enlisting the help of virtuoso pianist Morgan Fisher, "Meet Me" is a stunning tale of a woman who has thrown it all away for the drink. Another collaboration resulted from legendary Boston guitarist Jon Butcher's suggestion to Tom that it would be fun to work together. "Blood on the New Rising Sun" was just the vehicle for that collaboration, with Jon weaving his snaky guitar lines throughout Tom's song.
After receiving the disappointing news that The Yardbirds had shelved their new studio album, Tom decided that some of the tunes that Kenny and he wrote together, including "Goodbye to Yesterday," "The Lyin' King" and "Family of One" would appear on this album. Also included here are Tom's arrangements of "The Story," popularized by Brandi Carlile, and "Walls," a tribute to Tom Petty that Guerra recorded in the days following his idol's passing. The last song written for this record is the first song you hear on it, "Nevermore," about a guy of a certain age who is trying to convince himself there are brighter days ahead.
It's "American Garden," exclusively available on Casa Del Soul Records.
Turn it up loud!