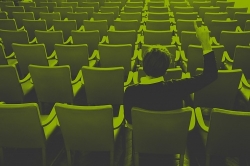 New York, NY, March 07, 2008 --(
PR.com
)-- Suddenly, knowledge is no longer confined to the stuffy walls of the lecture hall. At
PublicUniversityOnline.com
students – and anybody else – can download lectures from universities around the world - absolutely free. From a technical standpoint, the site is set up much like the well known youtube.com, as publicuniversityonline.com is also based on the users' willingness to add lectures to the site. The lectures are available as streaming video, download, audio and text file in their original languages and can be found by using an easy-to-use search engine, simply by entering a key word or phrase such as "Einstein" or "Theory of Relativity". When a user has watched/listened to the lecture, he or she is able to discuss it with other people in the online discussion forum. Users can also print out the discussion and use it as a reference during their studies or elsewhere, thereby bringing a whole new perspective to the global exchange of knowledge.
The idea to put together and make available lectures from around the world is something new. Jakob Sandvad, a 26-year-old university student, is the creator of the project. He explains: "Public University Online is on the one hand a very idealistic project whose main goal is to give people of lesser means access to relevant knowledge. Engineers in a small African town may now follow lectures from the finest universities around the world as long as the town has Internet access. On the other hand, it is an extensive, yet uncomplicated, data base which merely provides and discusses public lectures on the Internet."
Public University takes the basic setting of the university lecture hall into the 21st Century and beyond by offering lectures in all of the latest media platforms. The project is an idealistic and ambitious attempt to create a worldwide, democratic and open system to exchange knowledge and ideas and as such, it is available for free. "It should be seen as an addition, not a competitor, to the established universities, many of which are still seen as closed and elitist. I believe that the site will help create better and more involved students," explains Mr. Sandvad. He has developed the site with help from family and friends. It is his hope that others will be able to see the project's potential and contact him. So far Mr. Sandvad has uploaded 1,000 lecture links and has another 7,000 ready and waiting.
For more information or an interview, please contact Jakob Sandvad at tel.: +45 26293396 or by e-mail: jakob@sandvad.com
###