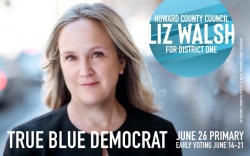 Ellicott City, MD, June 01, 2018 --(
PR.com
)-- Liz Walsh, civil engineer, construction lawyer, old Ellicott City resident, and Democratic candidate for Howard County Council, District 1, has published a
Legislative Plan of Action Specific to Flood Mitigation
in response to the recent repeat of devastating flooding in eastern Howard County, old Ellicott City particularly.
Walsh's plan is based on her years of professional experience in the construction industry, as a community activist working to #SaveChurchRoad since before the 2016 flood, and as a longtime resident of the historic town who shares the hopes and concerns of her neighbors and community.
"It's been just four days since my hometown flooded for the second time in less than two years, and so many of us are still grieving and in shock. But we need comprehensive, meaningful action now--not words--to ensure that this does not continue to happen again and again, worse and worse each time. We must steel ourselves for hard truths and harder work," said Walsh, who is challenging incumbent Jon Weinstein in the Howard County District 1 Council primary race. "I am ready for change, for the good, and I am up to the task."
Critical and immediate actions outlined in Walsh's plan include:
Funding an early warning flood alert system along the Hudson, Tiber and New Cut branches.
Enacting an emergency measure prohibiting the County from issuing new development building permits, plan approvals or waivers for six months.
We can't stop there. Walsh outlines additional next steps:
Prioritize and fund flood mitigation projects with greatest cost-benefit impact.
Authorize an audit of the Department of Planning and Zoning.
Enact an emergency measure requiring that any new construction complies with existing law as it pertains to stormwater management and environmental conservation (including buffers and setbacks).
Finally, on a go-forward basis, Walsh proposes to:
Eliminate current loopholes in the County's land-use law.
Enact stronger stormwater management law to address present-day precipitation levels.
Enact stronger forest conservation law.
Lower annual housing allocations permitted new development.
Change criteria for open-space preservation (e.g., lower acreage, adjacency requirements) so that more properties, particularly on the east side of the County, qualify.
"Howard County has commissioned plenty of task forces, and working groups, and reports on the subject of flooding in this old town. But we never put them into effect, or change the practices that exacerbate the flooding year after after. I want my plan to invite community feedback and create a true partnership to make effective, actionable ideas a reality," Walsh said. "So tell me, what did I leave out? What can we do better, and sooner? And most importantly--when do we start?"
You can find Walsh's full plan
here.
About Liz Walsh for District 1 Howard County
Liz Walsh is running to win Howard County's District 1 Council primary race. A civil engineer by training, construction lawyer by trade, and former project engineer for a national general contractor, Liz graduated from Mt. Hebron High School. Liz is also a working mom of two young children, ages 5 and 8 and, having returned to Howard County, resident to a century-old four-square home in historic Ellicott City.
When elected, Liz will protect our schools by focusing on bolstering funding and addressing root causes of overcrowding, control new development by wresting control of our County's land-use law, policy and procedures from special interest groups and developers, and invest in plans that will protect our rapidly vanishing greenspace and flooding watersheds and serve the public good, including ample and affordable housing at every age, bikeways, green infrastructure and parks, and sustainable small business corridors.
Liz does not take special interest money, which means she accepts no developer contributions. It makes a difference. Learn more about Liz and the issues she will champion at
WalshforOne.com
and follow her campaign on
Facebook,
Twitter
and Instagram.
Media contact:
Cassie France-Kelly
Cgfk3697@gmail.com
443-710-9373