FISHFUN Presents Cutting Edge Marble Mosaic
The Many Patterns for Custom-made Marble Mosaic Designs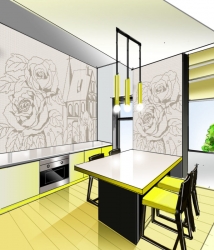 Foshan, China, June 07, 2018 --(
PR.com
)-- FISHFUN, a foremost stone mosaic company in China is breaking grounds in the building and construction industry with their introduction of the latest marble mosaic craftsmanship. The new marble mosaic design after expert installation displays a distinctive all-in-one marble pattern when sighted from a distance. FISHFUN is committed to using high quality mosaic marbles with beautiful artwork to bring artistry to our homes.
"We strive to bring you the most exquisite marble mosaic with astonishing customized designs from our finest quality precious stones carefully selected from around the globe. It gives us great pride to provide our customers the latest innovation in mosaic tile technology," said Joe Chen, the design manager of FISHFUN.
FISHFUN assemble a group of highly skilled mosaic craftsmen who combine ancient and contemporary mosaic designs by arranging small pieces of square marble mosaic to produce a master sketch pattern that gives the look and feel of a single whole marble. The smallest marble mosaic particle size is 8x8 mm (about 0.3*0.3 inch), however, it is more amazing that the mosaics can be completely customized to any dimension, size, shape and color to suit the need and style of any customer.
So marvelous is their craft, the designers at FISHFUN make sketch series appear like two colors when in fact, it is a one marble in one pattern. By utilizing the square mosaic as line, they are able to sketch any pattern demanded by any customer.
A customer recently attested, "The FISHFUN marble mosaic installation look really fantastic on my walls. They are true professionals. They designed a perfect pattern from the idea I gave them. The project finished very timely and the price was great!"
The new marble mosaics by FISHFUN comes in different designs with a wide array of applications. It can be used on walls, floors and ceilings of bathrooms, kitchen, interiors and exteriors of every modern building and constructions. FISHFUN have a large stock of hundreds of beautiful marble mosaics designs that can be further customized for any home decoration.
FISHFUN have been at the forefront of developing and installing excellent stone mosaic and designs as the demand for modern home aesthetics increases.
Visit
www.ffmosaic.com
for more inquiries on FISHFUN marble mosaic and other stone marbles.
Contact
Foshan Sky Wolf Mosaic Co., Ltd
Joe Chen
+8618924847527
www.ffmosaic.com

Contact