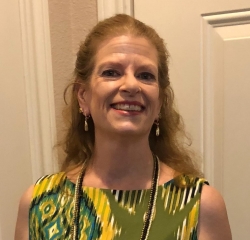 Eustace, TX, August 07, 2018 --(
PR.com
)-- Sarah L. Benezue of Eustace, Texas has been recognized as a Woman of Empowerment by P.O.W.E.R. (Professional Organization of Women of Excellence Recognized) for her outstanding contributions and achievements in the field of wholesale food.
About Sarah L. Benezue
Sarah Benezue is the Founder and Owner of J&L Sauces, LLC. She developed no-sugar added ketchup and BBQ sauce that do not contain any high-fructose corn syrup, corn syrup or other added sugar in her kitchen. They only contain 1 gram of sugar from the tomatoes used, are a healthier option for everyone and they taste fantastic! Sarah is responsible for creating the sauces and selling them to stores. She oversees daily operations, conducts marketing, sales to stores and individuals and research and development.
Sarah has been in the medical field her whole life, but was never happy working for someone else as she knew that she always wanted to have her own business. She earned her A.A.S. degree and X-Ray Technology Certification from MGCJCJC, her Ultrasound Certification from Keith Mooney-abdominal ultrasound at El Centro-Vascular Ultrasound and her Certification in Echocardiography Ultrasound from AHEC in Houston. Sarah served as an X-ray technologist, CT Technologist, Nuclear Medicine Technologist, Ultrasound Technologist and a Marketing Director for several Outpatient Imaging Centers. She tried several self-employment opportunities but due to circumstances beyond her control, they did not come to fruition.
Sarah was diagnosed with Systemic Lupus which also caused diabetes and as a result of the steroids she had to take, she gained 200 pounds. Wanting to lose the weight and get heathier, she looked at the nutrition labels and realized that everything in her kitchen cabinets was processed with high fructose corn syrup, which our bodies do not process well, and which turns to fat immediately. As she loves sauces, especially ketchup and BBQ sauce, Sarah started experimenting and developed her own sauces with no-sugar added, no corn syrup and no high fructose corn syrup. Through using these sauces and healthy eating, she lost 186 pounds and is no longer considered diabetic. She knew the time was right for her sauces to be on the market.
Ms. Benezue is affiliated with The Rebecca Project. In her spare time she enjoys movies, feeding the elderly and helping the homeless. She states that her biggest influence in her life has been her grandmother. Sarah's future goals are to open her own factory and to be the best employer in the area.
For further information, contact www.jlsauces.com and www.facebook.com/sugarfreesauces/.
About P.O.W.E.R. (Professional Organization of Women of Excellence Recognized)
P.O.W.E.R is a website as well as a digital and print magazine featuring professional and famous women. Our mission is to provide a powerful network of empowering women who will mentor and inspire each other to be the best they can be. Through our valuable services, our members can collaborate with like-minded professionals, gain recognition and obtain knowledge from those who have already achieved success.