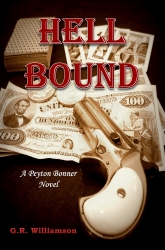 Kerrville, TX, June 15, 2018 --(
PR.com
)-- Indian Head Publishing is pleased to announce that the newly released western novel, "Hell Bound," is getting rave reviews.
The book, written by the acclaimed writer, G.R. Williamson, follows his tradition of telling compelling stories about the Old West.
"Hell Bound" is a story of redemption. It's 1883 and when the notorious faro dealer, Peyton Bonner, wins a Fort Worth hotel in a Denver poker game, he returns to Texas to claim his ownership. After being shot at the train station, he is forced to face the demons of his past.
Peyton Bonner has become a mythological legend that was manufactured by the pulp writers and newspapers when he refused interviews or photographs. With each man he killed defending himself at his faro tables, they continued to replay their made-up conjectures to the point that it was deemed the "absolute truth."
Now, tired of the rat-hole hotels, near starvation in the Dakotas, and having faced death from a ravaging fever in Leadville, Peyton wants out of the perilous life as a frontier gambler.
But, can he?
Trudi LoPreto, at Reader's Favorite Reviews, gave it a 5-Star review:
"'Hell Bound' by G.R. Williamson has all the makings for a perfect Western adventure story. I was taken back to the late 1800s… If you are a fan of the Western genre, Hell Bound will not disappoint! I really enjoyed this book – it would make a wonderful TV movie. Don't pass up 'Hell Bound'; it is a riveting Western winner."
"Hell Bound" is now available at Amazon and other online book dealers.
G.R. Williamson is a historian, a western writer, and a born storyteller. His publishing background includes: three non-fiction books on the West, many magazine and newspaper articles, and several Western movie screenplays
He is a member of the Western Writers of America and has been on panel discussions on frontier gambling. He has appeared in a television documentary on famous feuds in the Old West.
Williamson's home is in Kerrville, Texas, where he lives with his wife and their Chihuahua, "Shooter."
His books include Notorious Gamblers of the Old West, The Texas Pistoleers, John King Fisher – King of the Nueces Strip, and Willis Newton: The Last Texas Outlaw.
His books on Kindle include John King Fisher: King of the Nueces Strip, Notorious Gamblers of the Old West, The Notorious Texas Pistoleers – Ben Thompson & King Fisher, Gambling in the Old West -The Hip – Pocket History Series, Lottie Deno – Hellcat of the West, and T Head Dead (A Jesse Ramos Mystery)
For more information visit: http://grwilliamson.com
www.amazon.com/Hell-Bound-Peyton-Bonner-Novel/dp/1976344786/ref=sr_1_1