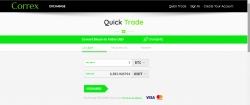 Toronto, Canada, June 15, 2018 --(
PR.com
)-- "Instant Trade" kings Changelly.com have signed on with Canadian based crypto exchange Correx.io. According to the agreement, Correx clients will have direct access to Changelly's trading platform through an API known as "QuickTrade." This will provide Correx clients with a second trading option. The other option being a traditional exchange platform more suited for high frequency and professional traders who seek lower fees and higher liquidity. Fees on the Correx exchange remain among the lowest in the industry where Sellers (Makers) receive +0.1% on every trade.
What makes this partnership so unique is that Correx holds a U.S. Money Services Business License. This should give added security to traders who might be reluctant to buy and sell on other exchanges that have no accountability and those that allow anonymous trading.
Correx will now be the only licensed exchange to offer clients two trading platforms and over 90 altcoins. Changelly, with over 1.5 million users and a monthly turnover of approximately 60,000 BTC, will now gain legitimate entrance into the lucrative North American markets and an even stronger foothold in the global markets. As for its counterpart, Rex Thomas, CFO of Correx International summarizes, "Teaming up with a powerhouse like Changelly and implementing its business model in combination with our existing model makes sense from every perspective."
correx.io/quick-trade