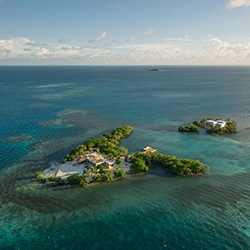 Southlake, TX, June 22, 2018 --(
PR.com
)-- David and Kathy Keener, along with their team at Vision Properties Belize, have over the past 10 years created a profitable vacation island and ocean front villa rental operation that continues to raise the bar and create new standards for 5-Star luxury island & villa construction and operation management. This is evident by the well above market high occupancy rate and consistent high rated guest reviews that Vision's three unique private islands and numerous ocean front villas are known for in Belize. The Company's latest island project, Gladden Caye Private Island, was just featured on the cover of the prestigious Condé Nast Traveller Magazine – May Issue as well as the cover of the go to island publication, Private Island Magazine – Winter Issue, which boasted Gladden as the most private luxury island in the world.
Vision Properties currently manages three unique and exclusive private islands off the coast of Placencia, Belize:
- Little Harvest Caye - a five villa private island less than one mile from the center of Placencia Village
- Gladden Private Island - an amazing, ultra private, ultra high-end, all inclusive island resort just a mile off the Belize Barrier reef along Gladden Split
- The Enclave - the company's latest exclusive, seven villa island just a couple hundred feet off the Placencia pier which just opened in June of 2018.
In addition, the company is currently working on three additional private island projects around Placencia each of which are completely unique and will be constructed and transformed to take advantage of specific and different market opportunities.
These islands typically start out as nothing more than a sandbox in the middle of the Caribbean Sea and are transformed into 5-Star resorts or vacation homes for rent and sale. Little Harvest Caye and Gladden Private Island Resort have been featured in dozens of online and offline publications, as well as showcased on the cover of prestigious travel magazines such as Private Islands Inc, Condé Nast Traveller and ThirdHome. The making of Gladden Private Island was documented last year in a special season finale of the Island Hunters Series featured on HGTV. The episode, which was filmed on the island over a nine month period, shows the island before construction of the resort began and tracks it through the construction process to completion.
The construction and management of private islands was not the company's first success in the vacation rental industry in Placencia. Vision Properties Belize currently manages a portfolio of high-end oceanfront vacation rentals which offers five-star service and amenities to guests as well as a nice return to the owners. In addition, Vision Properties has also recently added whole ownership oceanfront condos & oceanfront beach lots to its fractional villas & islands offering.
Along with an excellent management team which has a proven successful track record of delivering a profitable ROI on the homes and islands they manage, the location of the properties adds to the company's success in the industry. Placencia is a quaint town located on the coast of Sothern Belize, with an impressive 16 mile long pristine beach bordering the azure Caribbean Sea and world famous Great Barrier Reef. Some benefits to owning property in the area include:
• Convenient location easily accessible by land and sea; only 2.5 hours away from major US cities
• Low income & property taxes and low cost of living
• Tax and banking benefits for investors
• US currency accepted everywhere
The properties also include the best amenities for renters and owners such as private chefs service, onsite concierge, golf carts, boats on the islands, laundry service and airport shuttle.
Scott Henry is a satisfied owner who purchased shares in both a beachfront villa and private island -
"I chose the Jammin' Gecko in February 2015...As a merchant builder, myself, I liked what I saw in the way of quality and care, but more importantly I trust the organization. They seemed to have streamlined the process of fractional ownership. I have owned second home properties before, and this fractional program was a perfect alternative. The investment process went so well that I closed on [another] fractional share in [the private island] Little Harvest Caye."
About the Company: Vision Properties Belize specializes in starting with raw land and managing the design, construction, finish and management process to create high-end profitable properties; complete with interior designer, selected layouts and finishes that accentuate the relaxing pace of life in Placencia and upholds the highest standards of luxury for our owners and guests. Vision Properties manages several dedicated construction teams, trained to U.S. building and safety standards, with the ability to deliver a turn-key concrete luxury home in as little as six months.
Learn more about our properties for sale and fractional ownership
www.visionpropetiesbelize.com
To rent one of our private islands, waterfront villas or beach front condos, please visit www.geckovacations.com
Learn more about Little Harvest Caye: www.lhcbelize.com
Learn more about Gladden Private Island: www.gladdenprivateisland.com
Learn more about The Enclave Private Island: www.enclavebelize.com