Book an SF Bay Area BDSM Dungeon Tour with Pro Femdom Goddess Justine via Airbnb Experiences App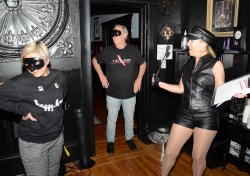 Oakland, CA, June 27, 2018 --(
PR.com
)-- Professional Dominatrix, Poet and Fetish Model, Goddess Justine of Oakland is using Airbnb experiences to give the curious a glimpse inside the world of BDSM. By offering these 1-hour tours of San Francisco Bay Area dungeons, she is "opening up a whole new world" for those who might never have considered a thing like that before the movie Book Club and the 50 Shades of Gray phenomenon, she said.
Goddess Justine, aka Badd Gramma, is an actual grandmother from Oakland, CA and former journalist who plans to write a book about her experiences of going into the Femdom business at age 51.
Not to be confused with their popular vacation rentals, Airbnb experiences are "excursions or other activities designed and led by local hosts. Hosts give guests unique access into places and communities in their city." (From their website)
"It's amazing how many people are curious about this side of sexuality, and want to take a glimpse into what is seen as pretty normal among my community," said Goddess Justine. "It's not all about pain or humiliation or any one thing, except for power exchange, communication and consent. There truly is something for everybody."
The tours are held on a quarterly basis with plans for more tours planned for the Fall of 2018. Special requests for parties of 4 or more can be made by emailing her at eastbayjustine@gmail.com or messaging her through the platform.
Justine got interested in the BDSM scene after her kids were grown and gone and she she was finally able to explore other things than being a "good wife and mother" (she has 3 grown children and 5 grandchildren). Always a free thinker and a little rebellious, her nickname with the family is "Badd Gramma." She even has it tattooed on her back side.
"I think being able to explore and enjoy sexuality as consenting adults is one of the most fundamental rights we have," said Justine. "Sexual repression cannot exist in a healthy, successful society. When you admit what you want and need and then go for it, it's very empowering. I highly recommend it!"
Note: The Airbnb Dungeon Experience Tour is for 21 and older only, with valid ID. To book a tour see: https://www.airbnb.com/experiences/144349
Photo by: ViZionS photography
Contact
Justine tenZeldam
510-323-0075
https://www.amazon.com/Digging-Pony-Poems-Pictures-Prose/dp/1539872084/ref=sr_1_1?ie=UTF8&qid=148229

Contact