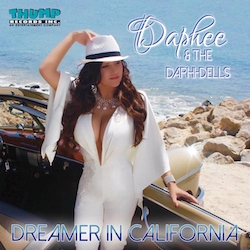 Brea, CA, June 27, 2018 --(
PR.com
)-- Daphee's debut album, "Dreamer In California," consists of an exciting and unique blend of dance, pop, latin, new oldies and urban tracks. It features Snoop Dogg, Baby Bash, Steve Salas of Tierra, D. Salas, and MC Magic. Songs from the album have been heard on dozens of radio stations throughout the country and earned a viral status on Pandora's Next Big Thing.
Her recent music has also been featured on close to a dozen major TV shows and has gained thousands of devoted fans worldwide. At the start of her music career she had placed the song, "Hair like this," in AUDC, Dance Moms and Toddlers and Tiaras. "Hair like this" also became the theme song for L.A. Hair under the artist name Mz. Daphne, but she later changed it to "Daphee" to reflect the childhood name her older sister gave her. Recently, Daphee's song "Hoodrat" was featured in the highly rated Black Ink Crew - Chicago on VH1.
Bill Walker, president of Thump Records, eventually caught wind of Daphee and her success and was floored by her energy, vocal style and uniqueness. The album mirrors her very own image: sexy, passionate, soulful, provocative, fun, and in your face.
You can find "Dreamer in California" on Pandora, Spotify, iTunes, Amazon and anywhere digital music is sold and streamed.
Album: "Dreamer in California"
Artist: Daphee and The Daphi-Dells
Release Date: May 18, 2018
About the Artist
Daphee caught the eyes and ears of veteran music producer/artist D. Salas after she posted a video of her singing on social media. Her career soon blossomed as a singer/songwriter as she composed songs for grammy winner "Jay Perez," Billboard award winners and 80's super gorup "Tierra," smooth jazz chart toppers "DW3," "Rocky Padilla," "Midget Loco," "OG Playboy," D. Salas and many others. Daphee also co-wrote the song, "Reasons," for MC Magic, which went on to receive major radio airplay across the country.
You can learn more about Daphee & The Daphi-Dells on www.daphee.com
Purchase the album here:
https://itunes.apple.com/us/album/dreamer-in-california/1381581357