Luxury and Affordable Jewelry Brand, Grand Avenue Jewelry, Launches This Week
New jewelry and lifestyle brand currently disrupting the industry.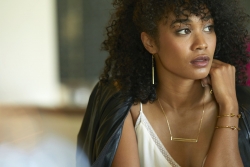 Los Angeles, CA, July 03, 2018 --(
PR.com
)-- Grand Avenue Jewelry, the exquisitely designed and affordable new jewelry line, officially releases its very first collection today. Boasting contemporary designs that are specially crafted for versatility and luxury at a widely attainable price-point, the brand addresses the gap that the jewelry industry hasn't been able to fill until now.
Co-founders, Courtney Wood and Yuriko Mitsuyama, decided to create accessories for the everyday woman after realizing there was a desperate need for high-quality jewelry that could be enjoyed by women from all walks of life. Wanting to enrich the lives of women much like themselves, the longtime friends and businesswomen created a plan to launch a brand that would address the affordability over quality issue that the fashion industry has become known for. A short time later, Grand Avenue Jewelry was born.
"I had gotten very frustrated with the quality and price point of the jewelry currently on the market," says Yuriko Mitsuyama. "Courtney and I started talking about the idea of starting our own line of affordable luxury jewelry, and we very quickly realized that it was not only possible, but necessary."
Its line of 14k gold-plated bracelets, necklaces and earrings were fashioned with flexibility in mind. Whether you're heading to a board meeting, attending a local art exhibit or enjoying a family dinner at home, each piece is designed to compliment your style and your life.
Courtney Wood says, "Each piece of jewelry is designed with three questions in mind: 1. Would I feel great wearing this? 2. How many ways can I wear this? 3. Will I still want to wear this years from now? What we end up with is jewelry that is equal parts beautiful, versatile and timeless."
All pieces are available for effortless purchasing through the brand's online shop, located at grandavenuejewelry.com. With a price range that is nearly half the charge that high-end department and retail stores demand, $75 - $105 is a true savings. In honor of its launch, customers can enjoy 20% off their first purchase, to be redeemed from now through July 8, 2018.
About Grand Avenue Jewelry
Grand Avenue Jewelry is a sophisticated new line of fine fashion jewelry, crafted from high quality materials offered for an affordable price. Grand Avenue Jewelry designs polished jewelry for the modern woman who appreciates smart style composed for life's many adventures. Its pieces are timeless, luxurious, wearable, and - believe it or not - affordable. For more information, visit
www.grandavenuejewelry.com
.
Follow along on Facebook and Instagram: @GrandAvenueJewelry
Contact
Relay Social
Brittany Engler
850-902-2904
relaysocial.com

Contact