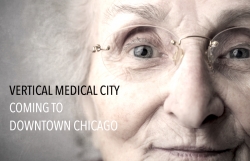 Chicago, IL, July 16, 2018 --(
PR.com
)-- Vertical Medical City, a new High Rise Development Project, is coming to the Loop in Downtown Chicago.
What started as a design concept in the north side of the River is now making headway to become a reality in the Loop.
A striking, sustainable, advanced technologies facility, the Class A geriatric-focused tower will transform Elder Care in the City plus provide Preventative, General and Diagnostic Services, in addition it will extend Biophilic and Interactive Experiences for its users. The application of Artificial Intelligence and to feed Farm-to-Table are a part of the PONTE HEALTH promised transformation of healthcare at-large. The VMC CHI facility will bring into the Urban Core the Next Level Assisted Living, Care, and Wellness, Holistically for Residents and Members 50 and Over.
In addition to Chicago, Vertical Medical City is rising in the Business District of Downtown Orlando; Developer Ponte will be seeking LEED Platinum and WELL Certifications in both locations, will be working with City Officials to positively impact Chicago's skyline and the community, and is working to break ground in the Loop no later than in April or May 2020.
Interested parties on the project, questions or inquiries can be emailed to: verticalmedicalcity@icloud.com