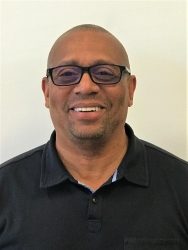 Houston, TX, July 18, 2018 --(
PR.com
)-- EyeSite Surveillance, Inc. is pleased to announce its recent hire of Brandon Eaden, Alarm Coordinator and Law Enforcement Liaison. Eaden will focus on false alarm compliance and will serve as a primary contact for clients, municipalities and monitoring stations.
"I was attracted to EyeSite Surveillance after serving for over 30 years in public safety and service administration because of their proactive approach to solving theft and vandalism problems throughout Arizona and, more recently, Texas. Their professionalism and drive to always do what is right made them a good fit for me in this stage of my career," Eaden said.
Eaden comes to EyeSite after spending 7 years with the City of Tempe (AZ). He performed multiple duties there including developing and promoting community education programs focused primarily on false alarm prevention and compliance (a growing issue with most municipalities throughout the U.S.).
Eaden's broad experience also includes positions as Communications Dispatcher, Community Service Officer, Criminal Investigator and Crime Prevention Specialist over the last 20+ years. He brings critical skills to the EyeSite team with his expertise in Alarm Code Compliance, Burglary and Report writing, Investigation and Interrogation Training, Security Planning and Special Event Coordination.
Eaden is a member of FARA (False Alarm Reduction Association), the Arizona Alarm Association, and was the Public Safety Chairperson for the Arizona Alarm Association from 2011 to 2016. He has received numerous awards and much recognition in his field including Superior Service in Crime Investigations awarded by NAPRI (National Association of Property Recovery Investigators), and Customer Service Commendation and the Employee Council Award awarded by the Tempe Police Department.
As a member of the US Navy, Eaden served honorably from 1983 to 1987 as a Radioman. He was stationed at NAS Miramar San Diego, CA and Naval Supply Center Oakland, CA aboard the USS Kansas City AOR-3. Eaden completed a West-Pac tour which included travels to Hawaii, Guam, Subic Bay Philippines, Singapore, Diego Garcia, Muscat, Oman, Perth Western Australia, Anchorage, AK and Banff, British Columbia. Eaden says that some of his greatest conversations to date are still held with Veterans from all eras, especially with Homeless Vets.
EyeSite Surveillance looks forward to having Eaden use his wealth of experience to improve the depth of service we offer to each and every client. Eaden will monitor and review alarm calls and police reports, track all arrests made during alarm activations, develop and promote a false alarm prevention and compliance program, be an active member of several local Alarm Associations, enhance partnerships with law enforcement and ensure customer care by helping the client understand all municipal alarm ordinances and best practices.
For more information, please contact Scott Carpenter at 602-525-2505, email Scott@GoEyeSite.com or visit EyeSite Surveillance website at www.GoEyeSite.com.