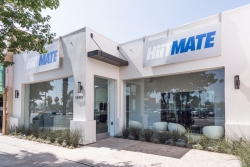 Sherman Oaks, CA, August 02, 2018 --(
PR.com
)-- Recognizing the ever-changing landscape of the fitness industry, where workouts require variety, time efficiency and fun, Richard Giorla (the famed creator of Cardio Barre®) has created a unique HIIT experience that's cutting-edge and effective. Taking the essence of the low impact/high energy workout of Cardio Barre and applying it in a circuit training format, HIITMATE® is revolutionizing high intensity interval training with its holistic approach to efficient, low impact, full body workout that gets real results and challenges the trap of the "body plateau."
The format is simple. In 45 minutes HIITMATE students shed calories, experience lean muscle growth, break through fitness plateaus, and achieve personal bests. The state-of-the-art studio is warm and friendly and our classes are designed to be effective regardless of gender, fitness level, or experience.
HIITMATE Pros modify exercises that vary in intensity and difficulty, providing everyone a challenging yet attainable "HIITMATE" experience.
The workout is high energy with low impact. There are 11 stations with 2 people per station - students can work out with their own mate, someone new or alone.
5-minute Warm up
3 times around the entire HIIT circuit
5-minute cool down
HIITMATE's intervals are low impact to ensure safety and not put unhealthy stress on the body.
HIIT technique involves giving an all-out effort of intense exercise for a short time, followed by a brief rest period. With HIIT training, students are able to perform at an intensity they normally can't sustain for long, and then recover to do it again, and again, and again. In doing so, HIIT combines two of the best fat-burning methods - maximum oxygen use and maximum effort.
Most people who want to burn fat and improve aerobic capacity turn to long, moderate-intensity cardio workouts. However, studies show that HIIT training offers a more effective way to reach those same goals.
When you work out at an intensity you're unable to sustain for a long time, a couple things start to happen. First, you'll feel burning in your muscles. Second, you'll feel out of breath. When you exert yourself, your muscles build up lactic acid, which causes that burning feeling, and your body's stores of oxygen become depleted. High intensity training forces your body to work even harder to build the stores of oxygen back up, and research shows that your body continues working to build oxygen stores for sixteen to 24 hours after you cease exercise.
Multiple studies show that HIIT workouts burn more calories both during and after exercise, boosting weight-loss results. And because of the intensity of HIIT workouts, there's a significant increase of catecholamines within the body, hormones that are activated when the body is stressed. These hormones help mobilize the body's fat stores so they can be used as fuel.
HIIT workouts also help improve VO2 max, which refers to the body's ability to use oxygen as energy. This results in improved endurance, enabling to sustain intense workouts for longer and increasing overall energy levels. Both aerobic and anaerobic endurance are improved with HIIT training as well, while moderate cardio workouts only improve aerobic endurance.
For more details, visit
www.hiitmate.com
.