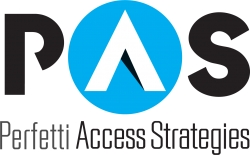 Chicago, IL, August 01, 2018 --(
PR.com
)-- Consumer goods brokerage firms Perfetti Sales & Marketing (Perfetti) and Access Strategies (Access), today announced the merger of the two companies creating Perfetti Access Strategies (PAS). The merger is effective immediately, and the companies will combine business operations in the coming year.
The combined company will be privately held and managed by the following shareholders. Mike Perfetti, founder of Perfetti, has been named Chairman of the new combined company. Joe Perfetti, Vice President of Perfetti, has been appointed CEO of the new company and will have management responsibility for the Grocery and Drug channels. Shaun O'Brien, founder of Access will be President of PAS, have management responsibility for Convenience and Alternative channels as well as operations. The headquarters for the combined company will be in Willowbrook, Illinois, where office expansion plans are already underway.
This merger combines sales expertise in the Grocery, Drug and Convenience channels with industry-leading technology, data and analytics. "Having all the systems is now a standard requirement in our business," said Shaun O'Brien. "Our secret sauce is the process in which we use them to create more opportunities and more wins, more often, for our clients."
"We want the clients that have supported Perfetti and Access over the years to see a significant and immediate value," noted Joe Perfetti. "Our top priority is to push our current book of business to its limits while continuing to double down on resources such as retail staff and analytics."
Perfetti will also carry over its membership with the Consolidated Sales Network to PAS. "We're excited to now have additional resources for our trade partners in the Illinois market," commented Dave Tucci, Executive Director of the CSN. "With this merge, our clients can now tap into the unparalleled convenience channel knowledge and relationships that Access brings to the table."
About Perfetti Sales & Marketing
Perfetti Sales & Marketing was founded in 1995 by Mike Perfetti, and is a full-service broker in the Illinois market covering Food, Drug, Mass, Convenience and Alternative channels. The company represents several household brands, and provides headquarter and retail sales coverage, analytics and administration support.
About Access Strategies
Access Strategies was founded in 2015 as a highly specialized brokerage firm that focuses on building brands in the Convenience channel for companies in the consumable, supply, service and equipment categories. The company represents several household brands, and provides headquarter and retail sales coverage, analytics, customer relationship management and administration support. Shaun O'Brien has been President and sole shareholder of Access since its inception.
About Consolidated Sales Network
The Consolidated Sales Network is an alliance of independent brokers operating across the United States committed to providing sales, marketing and consultative solutions for manufacturers of "fast moving consumer products." The organization operates as an effective national sales and marketing service provider using both vertical and geographic business models to best serve trade partners. It is their mission to provide quality service in all areas of the CPG supply chain while maintaining the entrepreneurial spirit of the independent food brokerage industry.