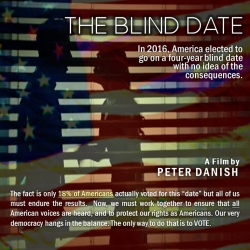 Nyack, NY, August 06, 2018 --(
PR.com
)-- Award-winning play "The Blind Date" to become a film, with an all-star list of Oscar and Emmy winners at the helm.
Award-winning author and playwright Peter Danish announced today the launch of an Indiegogo campaign to complete the shooting and the nationwide distribution of his new short film: "The Blind Date," for an October 2018 release in advance of the midterm elections.
The film tells the story of a young woman whose idyllic life is shattered when a change in the law forces her to make a horrifying decision – a decision no woman should ever have to make.
"I wrote 'The Blind Date' after the 2016 election when I discovered to my surprise that so many of the students at college I was teaching had not voted," said Danish. "I wrote the play as a cautionary warning for young people to see the potential consequences of not voting, and we succeeded beyond our expectations."
Danish continues, "The play ran off Broadway; won some awards; but most importantly, dozens of people wrote, called, and emailed me saying after seeing the play, they had registered to vote!"
Oscar-Winner Tom Fleishman (who will mix the film sound) said: "Art has the ability to make a far greater impression than numbers and statistics. It can show voters that elections have very real, very tangible consequences. It can affect real change." "The Blind Date" has shown it has the power to do just that. It is a powerful commentary, an eye-opening, almost shocking tale of modern-day consequences of voter apathy.
The goal of the campaign is to take the film to a much larger audience; to colleges all around the country. The message is simple: "The vote you cast this November will be the single most critical vote you cast in your entire lifetime."
An extraordinary list of Hollywood and television veterans have joined the creative team - cinematographers, sound designers, creative artists behind such legendary movies as:
Amadeus, Angels & Demons, Annie Hall, Chocolat, Cinderella Man, The Devil Wears Prada, Gangs of New York, Goodfellas, Hugo, Life Is Beautiful, Philadelphia, Silence of the Lambs, Sophie's Choice, The Departed, The English Patient, The Exorcist, The Godfather, The Wolf of Wall Street, and Y Tu Mamá También, to name but a few. Rounding out the "dream team" legendary keyboard virtuoso of the rock band Dream Theater, Jordan Rudess will provide the music for the film.
The producers are asking you to please support the project now because time is of the essence and our very democracy hangs in the balance. Complacency is the enemy and how we arrived where we are; the time to act is now.
For additional information or interviews please contact:
Peter Danish - (845) 480-2273 or peter@danishmediagroup.com.
The Blind Date Movie
Contact: Peter Danish
Phone: (845) 480-2273
Email: info@danishmediagroup.com