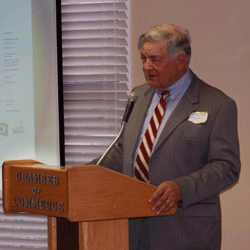 Oak Ridge, TN, March 12, 2008 --(
PR.com
)-- Walter B. Wise and partners, Terry Wheeler, Bill Kennedy, Christos Christopoulos, along with builder Mike Stevens and his partner and project manager Jon Stevens, announced during the Developer's Forum Meeting at the Oak Ridge Chamber of Commerce, the launch of their most recent joint project, Groves Park Commons – a Traditional Neighborhood Development (TND). The 325 housing unit development named, "Groves Park Commons" is being constructed on the Old South Hills Golf Course site located at 795 Tuskegee Dr. Oak Ridge, TN 37830. Phase One of the three phase project is underway now, with the expectation that approximately one hundred units consisting of Single Family Homes and Townhouses and are to be completed over the next two years. Groves Park Commons development will be among the first mixed usage (residential and commercial) neighborhood in Oak Ridge, Tennessee, where the demand for new median priced housing remains strong.
At the request of Kathryn G. Baldwin, Director of Community Development for the City of Oak Ridge, The Grove Park Common's Project Team was given the honor of presenting the principles of a Traditional Neighborhood Development. Parker Hardy, President of the Oak Ridge Chamber of Commerce, hosted the Developer's Forum specifically for this special question and answer session attended by city officials, architects, developers and realtors.
Walter B. Wise, the visionary of the Groves Park Commons Traditional Neighborhood Development project, led the discussion, describing the current trend in development of housing communities and how his vision evolved into the Groves Park Common's TND. Intrigued by the idea of building a neighborhood that is designed to encourage community, Mr. Wise went back to his roots growing up on Magnolia Avenue in Knoxville, Tennessee. Design of the Groves Park Commons is very much reflective of times when families gathered on the front porches of their home and visited with their neighbors who strolled the sidewalk lined streets. Groves Park Commons adheres to the fundamental rules of quality TND design, utilizing green spaces throughout the neighborhood to encourage residents to gather and congregate. Walter B. Wise commented, "A well designed Traditional Neighborhood Community will promote healthy lifestyles on many levels – physical, mental and environmental. How can you go wrong with that?"
Mike Stevens, considered the leading expert in Traditional Neighborhood Developments in East Tennessee, followed up the discussion with the evolution of housing communities in the United States from Post WWII to the current needs of today. Mr. Stevens closed the discussion with specific architectural details that will enhance the TND and indigenously meld it with its specific community surroundings. Mr. Stevens says, "A TND accomplishes so much of what we as a society desperately need. By the very nature of the design of the homes and the community, it naturally brings residents together and instills a sense of belonging. As architects we really needed to think through the smaller footprints as dictated by TND design. Dark and light wall concepts are critical, creating a sense of privacy between homes that utilize more urban spacing. Further, we keep the fronts charming and unobstructed by moving the necessities and not so pretty items in the back alley ways such as utility meters, garage doors, trash receptacles, and mailboxes." Mr. Stevens builds modern homes that fit perfectly in East Tennessee and bring character and charm back to home design by incorporating the beautiful details of the homes from the original neighborhoods in this region. When you walk down a street that has been built by Mike Stevens, you get a feeling of "deja vu". You find homes that were inspired by the original neighborhoods of Island Home, North Hills, and Magnolia Avenue. Mr. Stevens builds homes that fit today's lifestyle with "feel good" aesthetics of yesterday.
Groves Park Commons is a residential development that is now actively selling homes and floor plans. For sales inquires please call Sharon Power, Realtor® of Realty Executives at (865) 482-3232.
###
About:
Groves Park Commons (
www.grovesparkcommons.com
) a Traditional Neighborhood Development (TND) developed by partners Walter B. Wise, Terry Wheeler, Bill Kennedy, and Christos Christopoulos. Groves Park Commons – a Traditional Neighborhood Development (TND) is a 325 housing unit community currently being constructed on the Old South Hills Golf Course site located at 795 Tuskegee Dr. Oak Ridge, TN 37830.
Walter B. Wise – Founder of MidPark construction located 1709 MidPark Drive
Suite A-2, Knoxville, TN 37921. There is not much that Mr. Wise has not built. (865) 588-5717
Christopoulos & Kennedy Construction (www.ckgcinc.com) strive to produce a product that they are proud to present to you. Christopoulos & Kennedy was incorporated in 1995. Prior to this, Bill and Christos both worked as estimators and project managers for a regional general contractor. The majority of their projects were comprised of large retail franchises. (865) 330-3541.
Terry Wheeler (www.tkwheelerjeweler.com) Terry Wheeler has been serving the Oak Ridge community with quality Jewelry for past 30 years. Mr. Wheeler also develops commercial and residential properties in East Tennessee. (865) 482-3131
Mike Stevens Homes (http://www.mikestevenshomes.com) As the premier homebuilder in the greater Knoxville community, Mike Stevens Homes knows that each decision and choice you make is important to creating a home that is perfect for you and your family. Mike Stevens has brought together a talented staff with over 115 years of combined construction experience to produce beautiful homes with exceptional value.
Sharon Power (www.sharonpowerrealtor.com): Sharon Power of Realty Executives Associates in Oak Ridge Tennessee has been a Realtor® since 1980. She has consistently been a top producer year after year with and is a Certified Residential Specialist. (865) 482-3232.
Oak Ridge Developers Forum: Chairman, Eugene Lackey (865) 435-7663
Oak Ridge Chamber of Commerce (http://www.orcc.org)
The Oak Ridge Chamber of Commerce is an accredited chamber of commerce with approximately 700 members. Its mission is to enhance the economic vitality of the greater Oak Ridge area while providing value to its members.
Oak Ridge Community Development (http://www.cortn.org/ComDev-html/commdev.asp)
The Community Development Department is comprised of the Planning Division and the Code Enforcement Division, and also provides support for the following boards and meetings: Site Review, Environmental Quality Advisory Board (EQAB), Oak Ridge Municipal Planning Commission (ORPC),
City Council action, Board of Zoning Appeals (BZA), Board of Building and Housing Code Appeals (BHC), Board of Plumbing Examiners (BPE), Board of Electrical Examiners (BEE),The Planning Division guides growth of the City through application of the: Comprehensive Plan and Housing Design Program, Zoning Ordinance, Sign Ordinance, Landscape and Design Standards Ordinance, Subdivision Regulations, Recommendations for Capital Improvements Program projects such as new or expanded City parks or ball fields, City schools, or major utility or road improvements.
Abacus Creative Management (www.abacuscreativemanagement.com) Business, Marketing, Sales and promotional planning. For more information on this press release or the Groves Park Commons please call (865)386-7860.