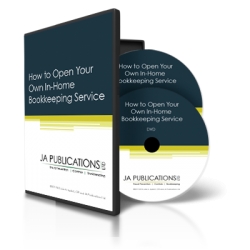 Loveland, CO, August 08, 2018 --(
PR.com
)-- How to open your own in-home bookkeeping service updated video edition created by Julie Mucha-Aydlott, CFE, is once again becoming the standard and most complete resource for independent bookkeepers.
Previous editions of the perfect bound print book have sold over 21,000 copies world-wide, which have been included in other print publications such as Entrepreneur Magazine with Paul and Sarah Edwards, Middle Class LifeBoat, Best Home Businesses for People 50+ and Opportunities in Your Own Service Business. The updated video edition in its new form contains nearly 16 hours of training and instructions for aspiring freelance bookkeepers.
Bookkeepers are searching for higher pay for their skill level while being treated with respect, and have found themselves wanting to take charge of their own future by starting a bookkeeping business. Those bookkeepers are looking for
online bookkeeping jobs
and have hundreds of questions. They are searching for those answers in which Aydlott has provided in the nine video chapter series. The video series also includes in-depth instruction on where to begin, how to get clients, marketing suggestions, what types of bookkeeping services to provide, mistakes to avoid, fraud and accountability, preparing taxes and bookkeeping business requirements. The program also includes a library of customizable bookkeeping business forms and checklists, a bookkeeping business plan template and valuable resources.
The hard copy video includes a DVD-Rom and CD which costs $389.00 and is available on Amazon as well as directly from the publisher's website. The publisher's website includes both the hard copy DVD-Rom and CD as well as online video access through a member's account portal. The online members account also offers one (1) hour of free content to preview the videos before making the decision to purchase. The online version costs $379.00.
Aydlott who is a Certified Fraud Examiner in Financial Investigations, specializes in small- to medium-sized businesses and has been self-employed since 1994. Aydlott has continued to update the bookkeeping book throughout the years however the latest update is the first update in a video series presented in a seminar format.
Those interested in the video edition on
starting a bookkeeping business
can contact JA Publications, Ltd at 970-776-8395. They can also check out the website at http://www.startabookkeepingbusiness.com or on Amazon.com. Anyone interested in finding out more should send an e-mail to japublicationsltd@gmail.com