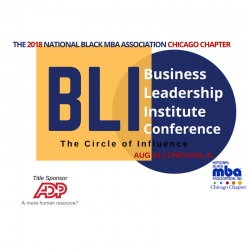 Chicago, IL, August 08, 2018 --(
PR.com
)-- Business Leadership Institute - Circle of Influence Conference is believed to be an event not to be missed. The Business Leadership Institute (BLI) is an annual one-day power-packed conference filled with seminars and networking geared toward industry best practices in leadership, innovation, and entrepreneurship.
The Business Leadership Institute is the only business leadership conference within the Chicagoland area committed to advancing diversity professionals' leadership skills and career advancement to the C-Suite.
The 2018 Business Leadership Institute will focus on leadership through the art of influence. From uncovering unconscious bias behavior to encouraging "disruptive" innovation, the goal is to share best practices that will inspire all leaders to lead in ways necessary to promote growth and sustainability.
The conference will begin with an inspiring message by plenary speaker Steve Canal of the Brand Executive and Author of "The Mind of a Winner." Followed by seminars addressing executives, entrepreneurs, and career advancers. Seminar panelists include corporate executives, business owners, distinguished authors, motivational speakers and TED Talkers.
The President's Luncheon "Art of Influence" will feature Debbie Dyson, ADP President National Account Services. The conference will conclude with The Minority Report: Unconscious Bias & The Power of Influence Diversity & Inclusion Town Hall paneled by Chief Diversity Officers from Walgreen's Boots Alliance, ADP, Neilson, Heidrick & Struggles, and Groupon.
Attendees will have an opportunity to advance their career at the Diversity Career Fair with recruiters from Walgreens, BMO Harris Bank, Associated Bank, ADP, Central Intelligence Agency (CIA), State Farm, Hollister Inc and more.
The Business Leadership Institute Circle of Influence Conference, presented by the National Black MBA Association Chicago Chapter and sponsored by ADP, will occur on Friday, August 24, 2018, 8:00 am to 5:00 pm at the Hyatt Regency Chicago 151 E. Upper Wacker Dr. Chicago, IL 60601. Purchase tickets at www.ChicagoBLI2018.com #ChicagoBLI2018
ADP, Automatic Data Processing, Inc. is a comprehensive global provider of cloud-based Human Capital Management (HCM) solutions that unite HR, payroll, talent, time, tax and benefits administration, and a leader in business outsourcing services, analytics, and compliance expertise. ADP, headquartered in Roseland, NJ with Offices in Chicago, Downers Grove and Elk Grove Village, IL, was founded in 1949 and has grown to over 700,000 clients in 13 countries. ADP is recognized as a Diversity Inc Top 50 Company for Diversity, Best Places to Work for LGTB Equality - Human Rights Campaign Foundation, Top Companies for Executive Women - National Association for Female Executives (NAFE), and Forbes Most Admired Companies.
The National Black MBA Association (NBMBAA) is a non-profit professional organization, founded in 1970 at the University of Chicago Booth School of Business to provide educational opportunities and economic growth for African Americans as well as innovative programs to stimulate their intellectual and economic growth. NBMBAA has grown to a diversified membership, 39 chapters in the US and a presence in the United Kingdom. Locally the Chicago Chapter builds partnerships with key stakeholders who help facilitate economic growth in the Chicagoland area. Increases awareness and facilitates access to graduate management education programs and career opportunities in management fields. For more information about Chicago Chapter NBMBAA see www.ccnbmbaa.org.
Amelia Jackson
National Black MBA Association Chicago Chapter
312.458.9161
ajackson@ccnbmbaa.org
www.ccnbmbaa.org