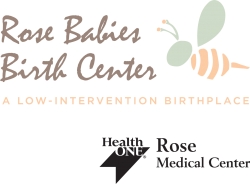 Denver, CO, August 09, 2018 --(
PR.com
)-- Rose Medical Center is proud to announce that its in-hospital low-intervention birthplace, the Rose Babies Birth Center, has received accreditation from the Commission for the Accreditation of Birth Centers (CABC). This makes Rose the first birth center in the nation to be accredited by CABC under its new standards for Alongside Maternity Centers.
Accreditation by the CABC represents an important mark of quality. The Commission for the Accreditation of Birth Centers, using the standards of the American Association of Birth Centers (AABC), provides support, education, and accreditation to developing and existing birth centers. The standards used for birth center accreditation are reviewed and revised on a regular basis. A complete and current copy of the standards is available for purchase from the American Association Birth Centers (AABC).
"Providing a low-intervention birth option was a long-held dream at Rose," says Lynne Wagner, Chief Nursing Officer at Rose Medical Center. "Our patients told us they wanted a low-intervention birth option but they were also concerned about safety. The Rose Babies team worked very hard to provide this birth offering to our patients and we are doubly proud that we can deliver this experience within the safety net of our hospital. Recognition and accreditation by the CABC is very meaningful."
The Rose Babies Birth Center is a unique birthplace in Denver, not only in this first-of-its-kind accreditation but also because either obstetricians or midwives can deliver babies in the birth center. The importance of being an in-hospital birth center is that if birth circumstances change, laboring mothers are just down the hall from Rose's renowned labor and delivery unit, not an ambulance ride away as is the case with freestanding birth centers.
The Commission for the Accreditation of Birth Centers is the only accrediting organization dedicated exclusively to the quality of the operation and services of all birth centers regardless of ownership, primary care provider, location, or population served.
It is an independent not-for-profit organization that accredits developing and existing birth centers in the United States of America, according to established national standards for birth centers.
About Rose Medical Center
Well known as a Denver institution and a 9th Avenue landmark for nearly 70 years, Rose Medical Center has earned its reputation as Denver's "Baby Hospital" while becoming a leader in comprehensive women's care, orthopedics and total joint replacement, heart and vascular care, weight-loss treatment, cancer care, surgical services, internal medicine and emergency care. With origins in Jewish teachings, traditions and community, Rose's founders built this hospital to "serve the need of every creed." By offering a high level of expertise and service across all disciplines, Rose has truly become a destination hospital, attracting patients from throughout Colorado and around the world. Learn more at RoseMed.com.