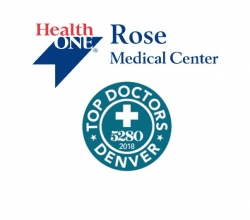 Denver, CO, August 11, 2018 --(
PR.com
)-- The annual "Top Doctors" issue of 5280 magazine was recently released, naming 37 physicians actively practicing at Rose Medical Center among the best doctors in the area.
The doctors on the list are chosen by other doctors, who are asked by 5280 to identify who they would trust to treat them and their families in a variety of specialty-based categories.
Physicians from around the metro area participate in the survey, and 347 physicians were named across 95 different specialties this year.
"We are incredibly proud to have so many Rose physicians recognized again as 5280 Top Docs," said Rose Medical Center Chief Medical Officer Meg Austin, MD. "Our physicians are central to our commitment to high quality and great patient outcomes and these doctors are leaders in delivering on that commitment."
"Rose physicians are central to our unique culture, and Rose's 5280 Top Docs honored this year are physician leaders dedicated to the highest quality outcomes for our patients," said Ryan Tobin, Rose Medical Center President & Chief Executive Officer. "We are honored to have so many doctors recognized again this year and we offer our sincere congratulations to them."
The following 5280 magazine "Top Doctors" currently practice at Rose Medical Center, in alphabetical order:
Michael Bateman, MD, Plastic and Reconstructive Surgery
Sean Bryant, MD, Neuroradiology
Michael A. Cooper, MD, Vascular Surgery
Daniel M. Donato, MD, Surgical Oncology
Matthew P. Dorighi, MD, Pediatrics
Paige Dorn, MD, Radiation Oncology
Mark Ebadi, MD, Allergy & Asthma
Alan S. Feiner, MD, Hematology & Medical Oncology
Jonathan Fishman, MD, Gastroenterology
John Hammer, MD, Infectious Disease
Peder Horner, MD, Interventional Radiology
Bronwen Kahn, MD, Maternal-Fetal Medicine
Kristinell Keil, MD, Female Pelvic Medicine and Reconstructive Surgery
Jennifer Kemp, MD, Diagnostic Radiology
Laxmi Kondapalli, MD, Reproductive Medicine
Craig Kornbluth, MD, Diagnostic Radiology
Marcus Kret, MD, Vascular Surgery
David C. Longcope, MD, Colon and Rectal Surgery
Noah Makovsky, MD, Pediatrics
Aristides Maniatis, MD, Pediatric Endocrinology
Jay Markson, MD, Pediatrics
Michael Metros, MD, Internal Medicine
Benjamin Ross, MD, Neurology (with specialty in children)
Gregory G. Papadeas, DO, Dermatology
Andrew W. Parker, MD, Orthopedic Sports Medicine
Richard K. Parker, MD, Cardiothoracic Surgery
Steven Perry, MD, Pediatrics
William J. Plaus, General Surgery
Ralph R. Round, MD, Neurology
Lee S. Rusakow, MD, Pediatric Pulmonology
Michael D. Schwartz, MD, Critical Care Medicine
Stuart Senkfor, MD, Nephrology
Vijay Subbarao, MD, Cardiology
David Theil, MD, Anesthesiology
John Truell, MD, Pathology
Yani Zinis, DO, Physical Medicine & Rehabilitation
Jonathan D. Zonca, MD, Family Practice
About Rose Medical Center
Well known as a Denver institution and a 9th Avenue landmark for nearly 70 years, Rose Medical Center has earned its reputation as Denver's "Baby Hospital" while becoming a leader in comprehensive women's care, orthopedics and total joint replacement, heart and vascular care, weight-loss treatment, cancer care, surgical services, internal medicine and emergency care. With origins in Jewish teachings, traditions and community, Rose's founders built this hospital to "serve the need of every creed." By offering a high level of expertise and service across all disciplines, Rose has truly become a destination hospital, attracting patients from throughout Colorado and around the world. Learn more at RoseMed.com.