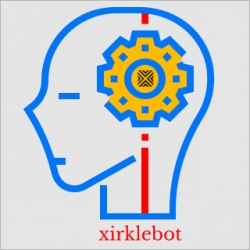 Ocean City, MD, August 16, 2018 --(
PR.com
)-- Xirkle released its long anticipated multi-currency crypto wallet called XirkleBot. XirkleBot is a Telegram-based free, easy to use, and secured crypto currency wallet that supports Bitcoin (BTC), Ethereum (ETH), BitcoinCash (BCH), Stellar (XLM), Litecoin (LTC), and the Xirkle (XIR) token. With these popular crypto coins, most users struggled to find a reliable and safe place to send, receive, and store their crypto coins away from those frequently hacked crypto currencies exchanges. With XirkleBot, users can have peace of mind along with its user-friendly user interface (UI), while leveraging the high-end encryption on Telegram by going to https://t.me/xirklebot.
At its core, XirkleBot represents a paradigm shift in how we view mobile currency. In the near future, users of crypto mobile wallets such as XirkleBot won't have to search Google or other search engines for "ATMs near me" because most savvy coffee shops, local bodega and/or local deli will accept crypto currencies as a form of payment. Imagine a world where you don't have to pay $3 ATM fees anymore. In terms of point of sales (POS) fees, it's great for local merchants to accept crypto currencies and more convenience for consumers because at that time the user's mobile crypto wallet will act like a bank on the go.
To increase the user adoption of its crypto token XIR, Xirkle aims to redefine the legacy customer loyalty rewards program by leveraging the blockchain protocol of Stellar Consensus Protocol (SCP). XirkleBot now supports staking of its XIR token. This means that holders of XIR tokens can earn more XIR token rewards for simply holding a certain amount of XIR tokens in XirkleBot. For level 1 XIR token holders, XirkleBot will automatically pay that account 2.50% of its XIR balance on the 1st of the following month. Users must maintain a minimum of 900 XIR tokens for 30 days to earn 2.50%.
According to Deloitte Center for Financial Services (DCFS), blockchain technology is arguably an optimal solution for loyalty rewards programs. "Within the Stellar blockchain, we discover an opportunity to tokenize ecommerce stores, while our loyalty reward program will pave the way for customers to earn more crypto rewards with less obstacles," says O. Tom Chhuong, CEO of Xirkle.
Within Xirkle's ecosystem, Xirkle (XIR) is a non-security digital token, which was based upon SCP via the federated Byzantine agreement and created exclusively for ecommerce and/or financial.
Users can start the staking process by simply buying Xirkle (XIR) tokens on https://ecex.exchange or StellarTerm.com. ECEX recently integrated the Stellar blockchain into its crypto coin exchange. The XIR token was widely received by the ECEX community, while XIR became the first Stellar token to be listed on August 13, 2018. Within ECEX, you can buy XIR against ZIG, ETH, and XLM. ECEX is a strong believer in crypto coins because of its constant airdrops and strong engagement with customers.
About Xirkle LLC
Xirkle is an up and coming search engine, which was founded in 2015. Xirkle and its crypto coin XIR aim to tokenize its shopping cart for customers, while leveraging Stellar's blockchain technology.
Name: O. Tom Chhuong
Organization: Xirkle, LLC
Site: https://xir.xirkle.com