Industry Firm Directly Supports Association Membership Through Financial Assistance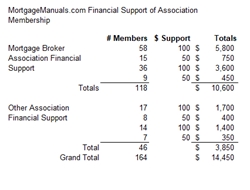 Washington, DC, August 16, 2018 --(
PR.com
)-- MortgageManuals.com, a provider of mortgage policies and procedures and compliance services, saved 118 mortgage broker firms $10,600 in the last 12 months through its association discount program, according to a report compiled August 14, 2018.
The program, which began recording association membership, in exchange for discounts, in August, 2017, also provided support to 46 other association members, such as the Mortgage Bankers Associations and Community Bankers' Associations, bringing its total support to association membership to $14,450.
MortgageManuals.com supports association membership because of its importance to small operators in particular. Thomas Morgan, President of MortgageManuals.com, said, "Aside from the credentials you receive by ascribing to the principles of an industry association, you get a collective representation in the event you experience a problem with a consumer, investor or regulator." Combined with the other value-added packages associations put together, he said the decision to join "should be a no-brainer."
Morgan said, "We will push companies to join, because we know how important it is. The fact that we give a discount if they do join is just an additional incentive."
Morgan cites this article, originally written in 2002, as evidence of his firm's long standing support of the mortgage industry associations.
Contact
QuickStart MortgageManuals.com
Thomas Morgan
877-918-7246
www.mortgagemanuals.com

Contact