PLM Trailer Leasing Opens New Refrigerated Trailer Customer Service Center
Center will offer emergency roadside assistance 24 hours per day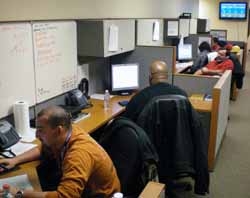 Dallas, TX, March 13, 2008 --(
PR.com
)-- PLM Trailer Leasing is proud to announce the opening of a new Customer Service Center (CSC) located in Dallas, Texas. The CSC was created to offer customer service, maintenance, and repairs specifically for the refrigerated trailer market. Emergency roadside assistance calls will be handled 24 hours a day, 365 days a year by PLM employees highly trained in refrigerated trailer repair.
The goal is to offer technically skilled and industry experienced roadside assistance without lengthy wait or hold times. PLM Trailer Leasing has hired experienced professionals from the refrigeration, transportation and cold supply chain industries with proven track records. The staff has the experience to offer emergency resolutions that are prompt and efficient while at the same time being cost effective.
"We had outsourced our 24 emergency breakdown service for several years but could not find a company that specialized in refrigerated trailer repair and service. We felt the only way to achieve the level of quality we desired was to build our own CSC dedicated to this specialized business. Immediately we are reducing maintenance and repair costs while getting the company driver back on the road sooner," said Randy Gunn, Manager of the CSC for PLM.
Companies and their drivers will find access to the center fast and easy with friendly service representatives that understand the industry challenges as well as address the immediate mechanical needs of the driver. One call to (877) RENT PLM is all that is needed.
The CSC opened for limited service January 1, 2008 and has initially focused on repairs to the 7,000 unit PLM Trailer Leasing fleet. The CSC will be available as an outsource provider for private and commercial fleets in the summer of 2008.
PLM Trailer Leasing, headquartered in Montvale, New Jersey, is a full service leasing company in the Cold Supply Chain. PLM is a niche company, focused on creative value contributions to temperature-controlled transportation, distribution, and storage businesses. PLM Trailer Leasing, the operating name of MAC Trailer Leasing LLC, is a wholly owned subsidiary of Marubeni America Corporation, the North American arm of Tokyo-based Marubeni Corporation, one of the top five "Sogo Shosha" Japanese trading companies. For more information, visit
www.plmtrailer.com
.
Except for historical information, the statements contained in this press release are forward-looking statements made pursuant to the safe harbor provisions of the Private Securities Litigation Reform Act of 1995. All such forward-looking statements are subject to, and are qualified by, risks and uncertainties that could cause actual results to differ materially from those expressed or implied by those statements. These risks and uncertainties include, but are not limited to, reduced demand for information technology equipment; competitive pricing and difficulty managing product costs; development of new technologies which make the company's products obsolete; rapid industry changes; failure of an acquired business to further the company's strategies; the ability to maintain satisfactory relationships with lenders and to remain in compliance with financial loan covenants and other requirements under current banking agreements; and the ability to secure and maintain key contracts and relationships.
Contact: Lance Wingfield
PLM Trailer Leasing
(972) 798-2562
lwingfield@plmtrailer.com
###
Contact
PLM Trailer Leasing
Lance Wingfield
(877) RENT PLM
www.plmtrailer.com

Contact