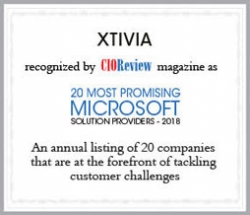 Colorado Springs, CO, August 24, 2018 --(
PR.com
)-- XTIVIA's Senior VP and General Manager Bernard Mustafa was interviewed by CIOReview magazine about XTIVIA as one of the top 20 Most Promising Microsoft Solution Providers 2018. Microsoft Dynamics 365 is a cloud-first, mobile-first technology solution that makes cloud capabilities available to organizations regardless of size, maturity or complexity. XTIVIA is a certified Microsoft Gold Partner.
Mustafa discussed the need for companies to leverage existing IT investments for maximum return while undergoing digital transformation for organizational and technological innovation. The Microsoft Dynamics 365 solution is designed to help customers effectively run their businesses using cloud capabilities. However, the breadth of functionality within the Dynamics 365 platform and lack of in-house expertise can make implementation challenging for small- or medium-sized enterprises (SME). XTIVIA, a Microsoft Tier 1 cloud solutions provider, offers technical implementation and integration services to help companies drive innovation using Microsoft technologies tailored to their unique business requirements.
"Dynamics 365 consists of various integrated modules designed for various business operations. We bring extensive Microsoft expertise to help clients make the most of their IT resources," says Bernard Mustafa, Senior VP and General Manager, XTIVIA.
XTIVIA delivers intelligent, integrated and customized Microsoft solutions to enterprises in various verticals and industries. The article and the full interview can be found here:
https://magazine.cioreview.com/magazines/August2018/Microsoft/#page=61
About CIOReview
CIOReview is a leading print magazine that highlights technology leaders, industry experts and thought leaders for enterprise IT.
https://www.cioreview.com/
About XTIVIA
For 25+ years, XTIVIA has established a proven reputation as a company that delivers leading-edge IT solutions and technology support for our clients' specific requirements, regardless of project complexity. Our service areas include Application Development, Business Intelligence, Customer Relationship Management, Data Warehousing, Database Support & Management, Enterprise Information Management, and Digital Experience Solutions. XTIVIA's success stems from a demonstrated ability to provide deep expertise via professional services, empowering clients to leverage their chosen technology successfully, competitively, and profitably. XTIVIA has offices in Colorado, New York, New Jersey, Missouri, Texas and Virginia.
https://xtivia.com