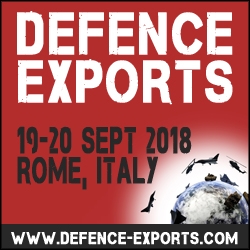 London, United Kingdom, September 04, 2018 --(
PR.com
)-- With the defence trade regulatory environment ever-changing and increasingly complex, companies within the sector are continuing to improve their programmes and maintain compliance.
The 13th annual Defence Exports Conference, organised by SMi Group and taking place in Rome, Italy on the 19th and 20th September 2018, will have 13 key presentations that will highlight best practice for complying with export controls and regulations led by key industry accounts, including:
· Day 2 host nation opening address: Export Control and Import/Export: Leonardo's Experience in Trade Compliance
Presented by: Pierfilippo Rossetti, Head of Trade Compliance, Legal, Corporate Affairs and Compliance, Leonardo
· Digitalising Compliance
Presented by: Emily Cromwell, Director, Deloitte
· Managing Product Classifications in current trade environment
Presented by: Thomas Mathew, Vice President - Global Trade Solutions, OCR
· Intersection of US Export Controls, Foreign Investment and National Security
Presented by: Nancy Fischer, Partner, Pillsbury Winthrop Shaw Pittman LLP
· Lessons Learned: ZTE Corporation's Experience with U.S. Export Control Enforcement
Presented by: Matt Bell, Chief Compliance Officer, ZTE Corporation
· Guidance on Trade Compliance and Export Control Laws
Presented by: David Di Veroli, Contract and Trade Compliance Head, Nexter
· Future Technology Transfer Challenges for Today's Export Control Practitioners
Presented by: Warren Bayliss, Head of Export Controls, Defence at Rolls-Royce
· "What's in Your Toolbox" - A Trade Professional's Toolbox and the Best Way to Utilise It"
Presented by: Bill Wade, Vice President, Global Trade Compliance, L-3 Communications Integrated Systems
Now featuring 33 expert Government and Industry speakers, 4 sponsors, 2 packed days of new content and 4+ hours of networking opportunities.
The full conference programme and registration is available at:
http://www.defence-exports.com/prcom
Recent registrations include: AERO Vodochody AEROSPACE a.s., American Embassy, Amphenol Procom, Anderson Trade Compliance LLC, B.M.A Buizza Mazzei Agency SRL, CAE, CamcodeCargolux Airlines International S.A., Cristanini SPA, Defense Threat Reduction Agency, Deloitte, DTRA, FN Herstal S.A., Fokker Technologies, Kongsberg Defence & Aerospace, MBDA, Microtecnica (UTAS), MOOG Space & Defence, OCR Services, Inc., Oerlikon Surface Solutions, Paboban Studio Legal Pilatus Aircraft Ltd, Raytheon UK, Royal Netherlands Air Force, Saab, Sonaca S.A., Souriau, Swedish Armed Forces, Thales Netherlands, UK MoD, United Technologies Corporation (UTC) and more.
Plus, there will be also be four associated half-day workshops:
1. Jurisdiction, Classification, and Licensing; How to Police Your U.S. Suppliers
Hosted By: Gary Stanley, President, Global Legal Services & Edward Peartree, Group Deputy Head Export Controls, BAE Systems
2. Managing Export Compliance with U.S. suppliers: Essential knowledge on License Exceptions, U.S. Re-Export Controls, and Catch-All's
Hosted By: Ms Karen H Nies-Vogel, Director, Office of Exporter Services, US Department of Commerce
3. New Technology – A bed of Roses or Increased Anxiety for Today's Export Control Practitioners
Hosted By: Warren Bayliss, Global Head of Export Controls, Rolls-Royce
4. UK MoD ASSC Management – Exploiting Best Practice and Information across UK Defence
Hosted By: Mark Jones, Waterguard ASSC Compliance Lead, UK Ministry of Defence
Those who are interested in attending Defence Exports 2018 are advised to register by soon as seats are limited.
Visit the website to secure your booking(s):
http://www.defence-exports.com/prcom
The Defence Exports Conference
Rome, Italy
Conference: 19th and 20th September 2018
Associated workshops: 18 & 21 September
Sponsored by: Camcode Global, Deloitte LLP, OCR and Pillsbury
For sponsorship packages contact Sadia Malick on +44 (0) 207 827 6748 or email smalick@smi-online.co.uk
For delegate enquiries contact James Hitchen on +44 (0) 20 7827 6054 or email jhitchen@smi-online.co.uk
About SMi Group: Established since 1993, the SMi Group is a global event-production company that specializes in Business-to-Business Conferences, Workshops, Masterclasses and online Communities. We create and deliver events in the Defence, Security, Energy, Utilities, Finance and Pharmaceutical industries. We pride ourselves on having access to the world's most forward-thinking opinion leaders and visionaries, allowing us to bring our communities together to Learn, Engage, Share and Network. More information can be found at http://www.smi-online.co.uk