Acquire Takes the Lead at Leadership Conference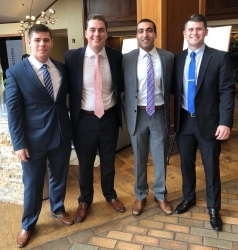 Raleigh, NC, September 05, 2018 --(
PR.com
)-- Mid-August approached as business leaders nationwide prepared for an annual leadership seminar held at Dallas, Texas' Hilton DFW Lakes Executive Center. The exclusive, annual conference brings together select top performing men and women from sales and marketing campaigns across the US. It was there that they were provided the opportunity to expand their knowledge on how to maximize their growth as elite business leaders. Upon their return to Raleigh, they were granted the opportunity to speak with some of the Acquire team members who had the privilege of attending the educational seminar.
Attendees were expected to arrive in Dallas with an intention to learn -- ready to grow. The seminar speakers covered a multitude of topics ranging from, the importance of campaign compliance, culture and team identity, and brand management. Attendees were given the chance to network with other markets, learn more about new campaigns, and encouraged to participate in individual breakout sessions with industry leaders.
"Having the ability to engage with other business leaders across the country allows us to receive guidance from each other on how to better ourselves professionally. I've learned asking for help is not a weakness, but a strength; hence the importance of networking to learn from anyone and everyone."
-- Alex Sacco, Corporate Trainer at Acquire
Zack Schuch, National Director at Acquire was asked to Keynote speak on the abundance of growth in the industry as well as the importance of opportunities to expand into new fields and emerging markets.
"We have at our fingertips a fantastic opportunity to grow without bounds. From our expansions into clean and renewable energy, to smart home initiatives, to consumer technology and telecommunications there is no limit to where all we can go or achieve in the foreseeable future. It's an incredibly exciting path to be going down."
--Zack Schuch, National Director at Acquire
"Hearing various business people in our industry share their experiences and specific tactics for further progression in their careers was highly beneficial for me professionally. One thing I enjoyed most was being able to engage with those who are doing well in this industry and finding out what made them successful on a much more one-on-one basis."
-- Corey Johnson, Corporate Trainer at Acquire
Acquire's leadership team left the conference with a new outlook and learned how to see the bigger picture rather than focus on the beginning stages of becoming a better business person. This conference not only helped the attendees find what truly drives their goals but also gave them the tools and motivation to take their goals and see them through to the finish line. To learn more about the Acquire culture as well as their philanthropic efforts, visit their website at www.acquireraleigh.com.
Contact
Acquire
Julie Banks
(919) 817-1418
acquirerdu.com

Contact