Growth to Exit Event Brings a Panel of Experts to Philadelphia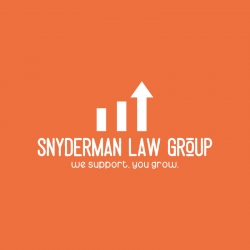 Philadlephia, PA, September 10, 2018 --(
PR.com
)-- Snyderman Law Group, PC of the Philadelphia, PA metro area has partnered with growth[period] based in the Washington, DC area to bring the Growth to Exit Strategy event to Philadelphia on 12 September 2018 at the Pyramid Club.
Registration is still available
for this can't-miss event on growth strategy. The event features a pragmatic approach to growing a company and has experts from all every angle: legal, strategic, finance, accounting, human capital and political environments. The speaker line up is stellar and the attendees are ensured access to top talent at no cost.
"We wanted to do something different than the normal events on 'how to grow your company.' We saw an opportunity to put an event together with top minds talking pragmatically through a hypothetical case study that would provide great relevance to the audience," said Courtney Spaeth of growth[period].
Marc Snyderman, Esq., of Snyderman Law Group, PC added, "I'm honored by the talent we've attracted to speak at this event and know that attendees will truly walk away with action items to grow their own businesses, which is our goal."
Their keynote lunch speaker, Michael Castellarin from Clairvest Capital will present on growth and exit options from the private equity world.
For a detailed agenda, additional information, and to register to attend visit
www.growtonextlevel.com
.
About Snyderman Law Group, PC.
SLG was formed in 2016 to provide practical business solutions to help companies grow by delivering outside general counsel and strategic consulting services at flat reasonable fees. Our firm is built on lawyers who have worked in-house and understand what it takes to help a company. Our goal is to help you "get to yes" without the dreaded billable hour weighing down your business. Visit us at
www.snydermanlawgroup.com
About growth[period]
growth[period] was founded in 2007 and delivers smart growth for its through business development and "deal making" at the highest level to sell existing capabilities, development of strategic plans for overall business growth, and Mergers & Acquisition support to add new capabilities/markets. The company has supported 100s of clients in five main verticals in the global market: Federal, Defense, & Aerospace, Digital, Cyber, Cloud, & Telecom, Sports, Entertainment, & Hospitality, Global Health and Wellness, Construction, Architecture, & Engineering. Visit
www.growthperiod.com
.
Contact
Snyderman Law Group, PC
Marc Ian Snyderman, Esq.
856.324.8267
snydermanlawgroup.com

Contact