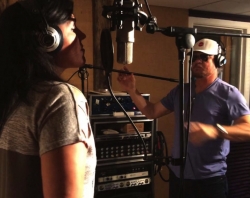 Nashville, TN, September 12, 2018 --(
PR.com
)-- Solaris Entertainment celebrates the addition of Country Singer Songwriter Morgan Riley to their client roster, proving that dreams can come true, even here in Music City. "Dreaming is a great starting point," said Morgan. "However you also need a plan. I used mine like a road map and did my best to stay clear of detours. I wasn't always successful; I mean everyone gets a flat tire now and then. What I was convinced of was keeping my eye on my destination, a recording contract." Morgan is a stunning example of raw talent and unstoppable resilience, Morgan Riley acts as a pinnacle of hope for any artist with the desire to make their mark on Music City.
For Solaris owner Michael Bloom, success is not stumbled upon, but rather, fought for and achieved against all odds, and Morgan Riley's musical pursuit has proved to be something of an odyssey. The independent Sony label prides itself on upholding professional and artistic integrity, a mentality made evident by their relationship with Morgan.
"When she delivers her song, you feel like she was talking about one of your experiences," says Bloom. "She writes music for anyone who lives with their eyes open. Her catalogue is as diverse as any I've seen. Everyone will be able to relate to her."
Riley's beautifully honest, cathartic energy penetrates through her debut single Let Me Love You, a beautiful story of recovery in the form of a ballad penned by Wallace "Porky" White. He wrote this about his personal triumph over addiction and said it was only possible once he let God back into his life. During his recovery Bloom, a long time supporter, and friend promised him an opportunity in music if he reached the milestone 2-year anniversary of his sobriety. A year after doing so, Bloom gave Morgan his song and shared Porky's story. Morgan couldn't wait to dive in and, while recording; she kept Porky updated of his songs progress. Morgan hopes more than anything her voice will be heard conveying hope to those millions who continue to struggle.
"I can't begin to express my gratitude towards Solaris Entertainment for the opportunity and faith they've shown me. Try and imagine how lost for words I had to be while working in Nashville several months ago, and Michael (Bloom) halts the session and asks me to grab my things; he had a surprise for me. 20 minutes later we're off somewhere in the country and the suspense was killing me. I begged him to tell me where we were going. Right then he slowed and turned onto a long winding dirt road. The next thing I remember was getting out of the car and being welcomed by a living legend, I mean he most definitely is, if you're a country music fan.
"Telling me he had heard a lot about me and was so glad I could take time away from recording to visit was none other than Paul Overstreet. As I entered his home, my eyes were drawn to his wall filled with Grammy and Dove Awards, photos with countless Billboard number one plaques. I was speechless." Admittedly enchanted by Morgan and her music, Overstreet penned two tracks appearing on her upcoming album, in addition to asking her if she wouldn't mind if he produced some of her music.
Overstreet's professional respect for Morgan Riley soon transformed into an offer to join him overseas, where she will unveil her highly anticipated new material as his opening act on a European tour.
Morgan Riley has evolved from an aspiring artist into, quite clearly, a respected artist. An already unstoppable, inarguable musical phenom, Morgan Riley is poised to become a voice that you won't believe you ever lived without. "She is easily the hardest working person I've ever encountered in this business. I can't imagine anyone being more deserving than Morgan," Bloom added.
Please direct all inquiries to Solaris.info@me.com. (615) 635-2389