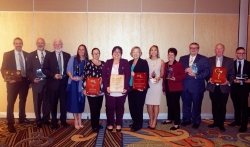 Woburn, MA, September 20, 2018 --(
PR.com
)-- The Massachusetts Pharmacists Association inducted Delilah Barnes, RPh, of Sullivan's Pharmacy and Medical Supply, as the 2018-2019 President of the Association succeeding Paul Larochelle, Jr, PharmD, of Biogen.
Mrs. Barnes moved from Puerto Rico in 1988 to attend the Massachusetts College of Pharmacy, graduating in 1994 with a Bachelor of Science in Pharmacy. Starting her early career in retail pharmacy, she then moved to Long Term Care Pharmacy work. In 2002, she joined Sullivan's Pharmacy working as a Long Term Care Manager for special packaging ALF facilities, skilled nursing facilities, compounding and hospice. Mrs. Barnes shares her love of working in Independent pharmacy, "I really enjoy work as an independent LTC pharmacy since it gives me a wonderful opportunity to work with a very special patient population as well for the community. I get a very unique opportunity to also serve the Hispanic community that comes to the store."
Mrs. Barnes also serves as a member of the Alumni Board for the Massachusetts College of Pharmacy and Health Sciences and is a Past President of Massachusetts Independent Pharmacists Association (MIPA).
Outside of her passion for pharmacy, she and her husband Harold run the children's ministry of their church region coordinators. In addition, she is very active with the Girls Scouts with her 16 year old daughter Lily. When she is not spending time with family, and serving as primary care giver for her mother, she also enjoys traveling to the south shore of New Jersey, to Montana, and to Puerto Rico to visit family. Mrs. Barnes shares that she is "Very proud of my family and cultural heritage and try to share that fortune with many."
The Annual Awards and Installation also recognized the outstanding achievements of Pharmacy professionals in the Commonwealth through its MPhA Awards Program. The 2018 recipients included:
Charles Berds, PharmD, Cardinal Health Generation Rx Champion
Kam Capoccia, PharmD, Upsher-Smith Excellence in Innovation
Phung On, PharmD, Pharmacists Mutual Distinguished Young Pharmacist
David Sencabaugh, RPh, Bowl of Hygeia
Christina Starner, Technician of the Year
Catherine Taglieri, PharmD, Nathan Goldberg Award
In addition, outgoing President Paul Larochelle presented his 2018 President's Award to the Pharmacy Colleges in Massachusetts:
Massachusetts College of Pharmacy and Health Sciences, Boston
Massachusetts College of Pharmacy and Health Sciences, Worcester
Northeastern University, Bouve College of Health Sciences
Western New England University College of Pharmacy and Health Sciences
The mission of the Massachusetts Pharmacists Association is to promote and enhance the profession of pharmacy, the practice standards of all its practitioners, and the health and welfare of the general public.