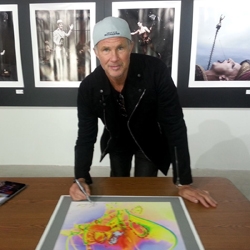 Los Angeles, CA, September 21, 2018 --(
PR.com
)-- YouTube video (please use embed code):
www.youtube.com/watch
A Collaborative Project between some of the greatest drummers in rock history and a visual art team in Los Angeles has captured rhythm on canvas. For decades, the movement and approach of fine artists has been studied and compared to rhythm. Most notably, Jackson Pollock's abstract work in the 1950s showcased "rhythmic nature" in relation to his splattering of paint on canvas and the patterns produced.
In 2009, SceneFour set in motion a plan to begin working in the "mindset" of rhythm. The project would begin with picking the greatest drummers to establish and pioneer a new medium called "Rhythmic Expressionism." Rhythmic Expressionism uses performance to create the artwork. Using drumsticks that lit with various colors, patterns, speeds and temperatures, the drummers would perform these rhythms that would translate to abstract artwork eventually to be laid to canvas. These works would showcase the individual drummers' speed, technique, style, and creativity.
"This is a really exciting new medium," says Chad Smith, drummer of the Red Hot Chili Peppers. The Art of Drums is the latest offering from Los Angeles art collective SceneFour, which is working with the likes of Red Hot Chili Peppers' Chad Smith, Guns 'N Roses' Steven Adler, Def Leppard's Rick Allen and Stephen Perkins from Jane's Addiction to make art from the drummers' hard hitting power and skillful jazz techniques.
SceneFour uses long-exposure photography and lighted drumsticks to create the work. A camera captures 30 seconds of the drummer's performance in one frame. Following artistic input from the drummer and some post-production back in the SceneFour studios, the drum movements are enhanced. Each image is heightened by increasing or reducing light, exposing hidden elements within the color channels and controlling the color spectrum to bring out the abstract nature of the work. More info at http://scenefour.com