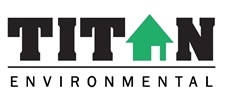 Mesa, AZ, September 26, 2018 --(
PR.com
)-- Titan Restoration of Arizona announced the launch of a new company today, Titan Environmental, in a continuing effort to provide expanded restoration services to the Phoenix Valley. Titan Environmental will provide environmental cleanup and restoration services, including asbestos abatement, lead abatement, contaminated soil remediation, hazardous waste removal and management, along with other environmental services.
A longtime leader and innovator in the restoration industry, Titan Restoration believes this new enterprise will allow them to better address the unique health and safety risks that accompany environmental services projects.
"We are excited about this new venture," said owner and CEO, Russ Palmer. "Titan Environmental will allow us to better meet the needs of our clients by offering these additional services in-house, with the level of service and expertise that they have come to expect from the Titan name."
As Arizona's leading restoration experts, Titan Restoration of Arizona is in a perfect position to expand their services to meet more of the valley's complex and problematic environmental restoration needs. As part of this venture, Titan is thrilled to add Mike Moore, an experienced and highly respected asbestos professional, to the team.
Titan Restoration of Arizona is a full-service restoration company, skilled in commercial, residential, and environmental restoration and dedicated to minimizing loss for our clients. No matter the size and scope of your project we have the advanced equipment, technical expertise, and professional experience to restore your property and your peace of mind.
Find us at
www.titan911.com