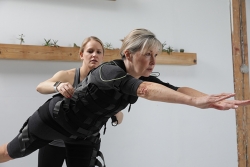 Kirkland, WA, October 04, 2018 --(
PR.com
)-- Seattle-based startup, Katalyst Fitness, just opened a new studio last week in the heart of downtown Kirkland (127 Lake Street). This 1150 square foot studio is a permanent location in their long-term expansion plans and add to their existing pop-up studios already in downtown Bellevue and University Village. The buildout leveraged lessons learned from Katalyst members at the first two studios, including designing with inspirational colors, using natural light and materials, and the addition of a shower. The space has capacity to handle 600-700 sessions per week and is open Monday through Friday from 6 am to 9 pm and Saturday and Sunday from 7 am to 3 pm.
Katalyst is hosting a public Kirkland Kickoff Party on October 12 that is an open house from 4 pm to 8 pm with raffle prizes, food and drinks, complimentary intro sessions gift cards and Katalyst gear, tours of the studio and live workout demonstrations.
"Kirkland is an active and thriving fitness community that seems like a natural next stop for us," said Björn Woltermann, CEO and Founder of Katalyst Fitness. "The underlying technology has been used around the world for decades as an effective workout for all ages and fitness levels without the injury risks of many conventional training methods. Whether you're 18 or 80, Katalyst is the most efficient strength training, making it ideal for health-focused individuals with busy lifestyles."
Katalyst is a personalized EMS (Electrical Muscle Stimulation) training experience designed to makes it easier for people to achieve their health and fitness goals. Used by millions of people around the world, EMS is proven to increase overall strength and endurance, muscle tone and definition, and address muscular imbalances. It's taking the world of fitness by storm in more than 80 countries in Europe, Asia and South America. After years of development, Katalyst is the only fitness company in the United States that is offering this modern FDA-approved EMS training.
Katalyst provides its members a hyper-effective full body workout that engages over 90% of their muscle fibers in only 20 minutes. It can quickly produce real result for anyone - even those with a history of injury - because the workout doesn't put external load on joints. Guided by experienced Katalyst trainers, each session is specifically designed to focus on an individual's body, goals, and health needs.
About Katalyst Fitness:
Headquartered in Seattle, Katalyst is on a mission to change fitness, forever. They offer a personalized fitness experience for people in search of an efficient, safe, innovative and fun strength routine that fits into their overall approach to wellness. Leveraging EMS (Electrical Muscle Stimulation) technology, Katalyst is starting a fitness movement that puts outcomes in reach of everyone and changes the way Americans think about strength. Visit
www.katalyst-fitness.com
for more information.