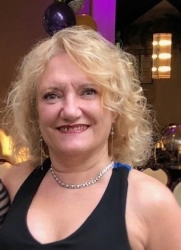 Brooklyn, NY, January 04, 2019 --(
PR.com
)-- Joan Tortorici, RN, BSN of Brooklyn, New York has been honored as a Professional of the Year for three consecutive years, 2017, 2018 and now 2019, by Strathmore's Who's Who Worldwide for her outstanding contributions and achievements in the fields of human services and healthcare.
About Joan Tortorici, RN, BSN
Joan Tortorici is a Registered Nurse at AHRCNYC, which is a family-governed organization, committed to finding ways for people with intellectual and other developmental disabilities to build full lives as defined by each person and supported by dedicated families, staff and community partners in New York City.
Joan interacts with developmentally delayed clients, Autistic clients and those with intellectual disabilities. She provides medications as needed in cases of seizures and other medical problems. She educates staff, students and parents in OSHA instruction, health and safety, first aid and allergies, anaphylaxis and EpiPen training.
Ms. Tortorici obtained a LPN, RN and BSN with a Minor in Spanish Language from Wagner University in 1980. She has served as a staff nurse in a number of hospitals and medical centers since 1981. She served as a Coordinator and Caseload Manager with Metropolitan Jewish Geriatric Home Care Agency from 1995 through 1999. Ms. Tortorici has served as a School Nurse with AHRC Middle High School since 2004.
In her spare time she enjoys dancing and spending time with her family.
For further information, please contact
www.ahrcnyc.org
.
About Strathmore's Who's Who Worldwide
Strathmore's Who's Who Worldwide highlights the professional lives of individuals from every significant field or industry including business, medicine, law, education, art, government and entertainment. Strathmore's Who's Who Worldwide is both an online and hard cover publication where we provide our members' current and pertinent business information. It is also a biographical information source for thousands of researchers, journalists, librarians and executive search firms throughout the world. Our goal is to ensure that our members receive all of the networking, exposure and recognition capabilities to potentially increase their business.