Rayna Tours and Travels Wins Two Coveted Awards at Arabian Travel Awards
Arabian Travel Awards recognize the company with the Best Destination Management Company and the Best B2B Travel Portal awards.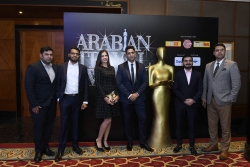 Dubai, United Arab Emirates, October 09, 2018 --(
PR.com
)-- Rayna Tours and Travels has been announced as the winner in two important categories of Arabian Travel Awards 2018: Best Destination Management Company and Best B2B Travel Portal. These awards were presented to Rayna Tours' Group CEO, Manoj Tulsani, in an invitation-only, black-tie event ceremony on 20th September. He was also joined by Rinki Tulsani – the company's Head of Hotel Contracting, Deepak Hiranandani (Director of Sales), Sunil Panwar (Business Development Manager), and Ahmed Yaqoob (UAE Market - B2B Sales Head).
Arabian Travel Awards, now in its second year, honor experts in all facets of the industry. Held at JW Marriott Hotel Dubai, this year's award event was even grander and witnessed a huge gathering, being all attended by who is who in the region's travel and hospitality space. H E Khalid Jasim Al Midfa, the Chairman of Sharjah Commerce and Tourism Development Authority (SCTDA), was the event's chief guest. The winners in all categories were selected through an unbiased public voting system.
"We're extremely humbled to receive these tremendous recognitions which are based on public opinion," said Deepak Hiranandani. "They not only reflect Rayna Tours' commitment to provide its clients with the most innovative travel solutions, but also speak volume of our entire team's sincere hard work and dedication to put our mission into action." He also expressed his heartfelt gratitude to the voters who chose the company for the awards. "In fact, this wouldn't have been possible without our valued patrons who acknowledge our genuine efforts."
Visit
www.raynatours.com
and
www.raynab2b.com
to get more information on the company's services.
About Rayna Tours
Rayna Tours, founded in 2006, is an ISO-certified destination management company with offices in Dubai, Abu Dhabi, Sharjah, Singapore, Malaysia and Pune (India). With over a decade of combined experience in different facets of tours and travel industry, Rayna Tours offers an advanced online reservation system with customized solutions and instant confirmation – all backed by a team of tour consultants with deep-rooted local knowledge and expertise.
Contact
Rayna Tourism LLC
Mr. Rajkumar Gaikwad
+971 42087444
https://www.raynatours.com/

Contact