Saudi General Entertainment Authority Breaks a New Guinness World Record for the Largest Fireworks Display Launched Simultaneously in Several Cities Across the Kingdom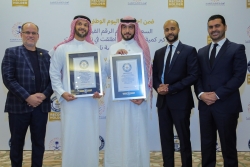 Riyadh, Saudi Arabia, October 10, 2018 --(
PR.com
)-- The Kingdom of Saudi Arabia accomplished a new Guinness world record for the largest fireworks display launched simultaneously in several cities across the Kingdom. The Guinness Book of World Records had announced on Wednesday that the General Entertainment Authority succeeded in setting this new record with 962,168 fireworks, breaking the previous record of 810,000 fireworks set by the Philippines in 2016.
The Kingdom's record-breaking fireworks display was launched in 58 different locations throughout different cities viewed by millions of spectators.
Commenting on this major accomplishment, Mr. Amr Banaja, Chief Executive Officer of GEA expressed the GEA's pride in achieving this world record is an achievement dedicated to the Kingdom of Saudi Arabia on this valued occasion.
Mr. Amr Banaja added that this was made possible thanks to the hard work and dedication of a young enthusiastic Saudi team.
GEA had also previously accomplished a Guinness record on the 88th National Day for the biggest flag painted in the sky with fireworks and drones in the cities of Riyadh and Jeddah.
Furthermore, GEA had organized on the 88th National Day more than 90 events that varied between arts and culture, circus performances, and fireworks displays in various locations across the Kingdom.
About the General Entertainment Authority:
In line with one of the pillars of the Kingdom's vision 2030 in creating a vibrant society, the General Entertainment Authority has been established to organize, develop, and lead the entertainment sector to provide exciting entertainment options, and tailored experiences to the needs of people from all walks of life around Saudi Arabia. Also, to stimulate the role of the private sector in building and developing entertainment activities.
The General Entertainment Authority contributes to supporting the Saudi economy by participating in diversifying its sources, raising its gross domestic product, supporting small and medium enterprises and increasing the proportion of foreign direct investment in the entertainment sector.
For more information please contact: media@gea.gov.sa
Contact
General Entertaiment Authority
Dania Koujan
+966544180133
www.hewargroup.com

Contact