Skin Actives' Scientific New Vitamin C Toner
Skin Actives' new Vitamin C Toner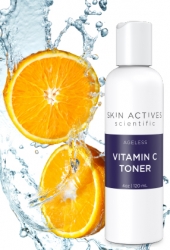 Gilbert, AZ, October 15, 2018 --(
PR.com
)-- What is special about Skin Actives' new toner? To start, it is not what would have been called a toner 20 years ago. Back then, a toner had lots of alcohol in it to close the pores by drying up the skin and making pores less noticeable. It may even have contained astringent chemicals that could damage your skin. To top it all off, it would have contained menthol, or a derivative, to fool your skin nerves and give you the impression that it was doing "something." This type of toner was doing something alright, probably introducing you to sensitive skin, a problem you might not have had before using the skin care products of that time.
Now, Skin Actives has created a new kind of toner. This toner that will refresh your skin while benefiting it in a number of ways. This toner will finish cleansing your skin while providing the benefits of a non-acidic, non irritating vitamin C (magnesium ascorbyl phosphate). Also balancing the skin, increase collagen synthesis, and decrease irritation.
How does the Skin Actives Vitamin C Toner manage to provide all these benefits?
They use these active ingredients:
Witch Hazel
Hamamelis, a.k.a. witch hazel, is an herb that Native Americans used for many afflictions, including swelling, minor cuts, and inflammation. It is still used today, and you will find it in our toner. Our witch hazel is alcohol-free, so you can use it to help remove excess oil and debris without fear of drying the skin.
Xylitol
This is a sugar alcohol present in many fruits and vegetables, as well as in the human body. It is used in skin care as a probiotic because it inhibits bad bacteria without killing the good bacteria that keep our skin healthy. It also promotes collagen synthesis and decreases irritation.
Magnesium Ascorbyl Phosphate
Magnesium Ascorbyl Phosphate (MAP) is a stable form of vitamin C which is an excellent antioxidant that is also essential for collagen synthesis. Scurvy, an age old syndrome of vitamin C deficiency, is related to defective collagen synthesis. MAP is also a skin lightener, improves skin elasticity, decreases wrinkles, and reduces redness.
Aloe Vera
The gel obtained from the Aloe barbadensis plant improves skin hydration, and soothes redness and irritation.
Fucoidans
The fucoidan used by Skin Actives is extracted and purified from brown algae (Phaeophyta). When applied to the skin, these polysaccharides will increase support collagen and other proteins, as well as acting as an antioxidant.
Neroli Floral Water
The floral water of orange blossoms will make your morning (or evening) better just by being a beautiful scent. In addition, this lovely floral water will help refresh and soothe the skin.
skinactives.com/vitamin-c-toner/
Contact
Skin Actives
Amanda Wolfe Elampooranar
480-813-5633
www.skinactives.com

Contact