DentaDefend is Prepared for Sale Online in Kenya and Senegal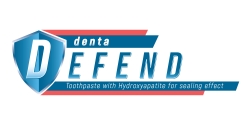 Evanston, IL, October 16, 2018 --(
PR.com
)-- DentaDefend LLC, based in Evanston, Illinois, prepared their first product for sale in Kenya and Senegal. Within a couple of weeks the product will be available in some other African and European countries. According to the official website, the first 100 units will be sold at discounted price.
DentaDefend toothpaste is designed to protect from gum problems, freshen the breath, whiten the teeth, and to fill microcracks in the enamel.
Manufacturers have chosen Hydroxyapatite, Mint, and Lime as active ingredients in DentaDefend's composition.
Hydroxyapatite is a naturally occurring mineral form of calcium apatite, quite similar in morphology and composition to the human hard tissues. The mineral can be derived from bone of various sources (as some species of marine coral), and contains varying amounts of different elements and ions (as magnesium, sodium, carbonate, etc.) that are important for bone physiology.
Mint is a calming and soothing herb, rich in nutrients, with many benefits for the human body. It has been used for thousands of years to aid with an upset stomach or indigestion, but as part of DentaDefend's composition - it refreshes the breath and helps with gum problems.
Lime's health benefits include weight loss, improved digestion, reduced respiratory disorders, enhanced immunity, and more. It also makes the breath fresh and has a polishing effect on the teeth.
DentaDefend toothpaste does not contain fluoride, chlorhexidine or triclosan.
Contact
DentaDefend LLC
Steven Davis
+442038070573
www.dentadefend.com

Contact