Canine Company Launches Campaign to Find a Home for Dog That's Spent 500 Days in a Shelter
Adopt-a-Dog gets help from Canine Company on adoption package and digital campaign to find a family for Thumbelina the dog.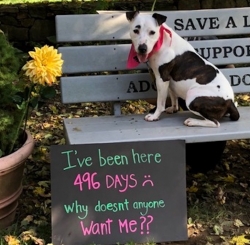 Wilton, CT, October 18, 2018 --(
PR.com
)-- Why has a sweet 2-year-old dog spent almost her entire life in a shelter? Her caretakers at Adopt-a-Dog can't understand how so many adopters pass by this pint-sized pup with a big personality.
"Thumbelina will make an awesome pet for some family," says adoption coordinator Kelly Dugan of Adopt-a-Dog. "She has the looks, the personality and the smarts. She loves climbing in a lap for a snuggle with her human friend as much as she loves playing with other dogs."
To help find a forever home for Thumbelina, pet care services provider Canine Company has put together a special adoption package -- valued at over $3000 -- and launched a campaign to share the dog's story via social media. In just two days, the original post has been shared more than 3000 times.
In addition to covering Thumbelina's adoption fees, Canine Company will provide her adopters with a fully installed Invisible Fence® Brand system, at-home obedience training, two visits from its mobile grooming van and a go-home goody basket filled with toys and treats. For more details on the adoption package, visit Canine Company's Facebook page.
"Thumbelina is such a great catch, we can't believe she's been waiting so long to be adopted," says Renee Coughlin of Canine Company. "While Adopt a Dog has taken wonderful care of her, she needs a forever home. We hope this adoption package will encourage the perfect family to come and meet her."
Thumbelina is a 42-pound Bull terrier mix. For more information, photos and a video, visit Thumbelina's page on Adopt-a-Dog's website.
Adopt-A-Dog was established in 1981 to save, socialize and secure loving homes for unwanted or abandoned dogs. Today, Adopt-A-Dog has a staff of 15 and houses between 35-40 dogs at any given time at its shelter in Armonk, NY. It is licensed by the New York State Department of Agriculture as a Not-for-Profit Animal Adoption and Rescue Organization.
Born of a family's love for dogs, Canine Company has been helping families keep their dogs and cats healthy, safe and happy for 35 years. Based in Wilton, CT, the company serves pet parents across New England, New York and New Jersey with the Invisible Fence® brand systems, Manners dog obedience training, and mobile grooming and pet sitting in select markets.
Contact
Canine Company
Debra Bennetts
203-803-4640
www.caninecompany.com

Contact