2018 Marina Del Rey Film Festival to be Held at Cinemark 18 and XD, October 17th- 22nd, 2018
Marina del Rey Film Festival will be screening over 180 films, starting this week at Cinemark 18 and XD.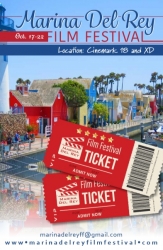 Los Angeles, CA, October 17, 2018 --(
PR.com
)-- The organizers of the famed Marina del Rey Film Festival are pleased to announce that this year's event is set to be held at the Cinemark 18 and XD, from October 17th - October 22nd, 2018, in Los Angeles, California.
This year's festival will see established and emerging new talent showcasing their works in exclusive film screenings which will run from 10 AM to midnight for each day of the festival's duration. An award ceremony for the best films screened at the 2018 Marina del Rey Film Festival, as voted by the Festival's jury panel, will take place on October 22nd, at the Cafe del Rey in Marina del Rey.
"We are excited for this year's Marina del Rey Film Festival, and can't wait for audiences to get a glimpse of some of the best contemporary directors' unique contributions to both the American and global film arena," said Marina del Rey's Film Festival Director and Media Representative Jon Gursha.
2018 Marina del Rey Film Festival
Start: Wednesday, October 17th, 2018
End: Monday, October 22nd, 2018
Location: Cinemark 18 and XD, The Promenade at Howard Hughes Center, 6081 Center Dr., Los Angeles, California 90045
2018 Marina del Rey Film Festival Awards Ceremony
Date: Monday evening October 22nd, 2018
Location: Cafe del Rey 4451 Admiralty Way Marina del Rey, CA 90292
Listed below are some of the highlights of films to be screened at the 2018 Marina del Rey Festival, as well as a brief summary:
Perp
Directed By Jordan Utley
A detective tries to coerce a confession out of a suspect. Little does he know, the "suspect" is hiding some important information regarding the case.
100,000 Miles a Second
Directed By Jeremy Bandow
100,000 Miles a Second is based on an actual experience the writer had at a local co-op with a homeless street musician who gave her an alternative perspective on living with multiple sclerosis, stressing the power of "thought" regarding life circumstances. This film is relevant to anyone who has ever struggled with anything in their life, letting their minds create their subsequent misery.
The Pines of Spring
Directed By Ann Huang
The Pines of Spring offers a nostalgic return to meta-cinema. In this experimental short, the complete filmmaking process is disclosed to the audience. The narrative feels like a dream being recounted by the dreamer.
"Nora Ephron Goes To Prison."
Directed By Hannah Elless
Set in New York City, two women from very different worlds meet in unexpected circumstances. Through their common love of Nora Ephron and her films - Sleepless in Seattle, You've Got Mail, and When Harry Met Sally - hope conquers a confining reality as an unlikely friendship blooms. Watch what happens when Mary meets Ally.
Summon
Directed By Madison Calicchia
Summon is an experimental short exploring themes of female interaction and identity, particularly focusing on the relationship of white women and women of color. Sometimes there is harmony, sometimes there is discord, and sometimes, your perception of it stems from your own experience and identity. If you're looking for answers, Summon isn't the film for you. But if you are willing to explore your perceptions, Summon might be the film that challenges you to find the answers inside of yourself.
Short: THERE'S GOTTA BE SOMETHING MORE
Directed By Fiona Lincke
This is a "slice of life" short dealing with a lady who has to reinvent her own existence after the death of her husband. When going for a job to supplement her meager income, her age and lack of experience are taken into consideration at every turn. Then something totally unexpected happens on her quest; which brings to light that perhaps the world isn't as rotten as she thought.
Post Graduate
Directed By Sal Tassone
John J Vogel gives a riveting performance in Post Graduate. When a janitor cleans an empty auditorium after graduation of the high school he's worked for decades, he gives his "own" commencement speech on the night of his retirement. It's the speech he thinks the graduates should have heard, and more importantly, the one he wishes he had heard when he graduated from high school. No one is left out.
Jewel of The Pacific
Directed By Eladio Arvelo
What happens when a sleepy beach town starts transforming? Surfers move in. Beach and surf revolution begins. Next, college students make it a bustling neighborhood of their own. Then come the entrepreneurs and work professionals, demanding better restaurants, better bars, better fitness options, and of course their own farmers market. Cost of living starts going up, pushing out original residents. Happened in New York City in the 80's, then San Francisco in the 90's. Now gentrification is spreading across the United States and perhaps the world. Join us in exploring this topic with Jewel of the Pacific.
Sunk
Directed By Liesel Kopp
Mona is certain that Juanita is the perfect person to hire as her son's nanny, but the decision has nothing to do with Juanita's childcare skills.
The Boy at Platform 3
Directed By Michael Daniel Vetter
A boy. No friends. Disturbing family conditions. The main station of the big town nearby becomes his place of longing for his daily getaways. Lost and comforted by his fantasies he spends most of his spare time watching trains. One day...
A Silent Legacy
Directed By Mitchell Tanaka and Georgia Lee
A Silent Legacy follows the story of the Marin County Poor Farm and graveyard, investigating the tragic history behind its existence. Expert interviews and historical documents come together to unveil the lives of Poor Farm residents and the site's often rocky relationship with the surrounding community. A Silent Legacy uncovers the history of the Marin County Graveyard, an unmarked cemetery containing over 280 graves and countless stories.
A Tale Of A Sassy Little Girl
Directed By Francesca Nobili
On Halloween night, a little girl receives a spooky visit. A short film dedicated to all the little girls, young girls and women out there who face their own monsters every day, to remind them that they have the strength and the courage to fight and win.
DOUBLE UP "Two Women"
Directed By Francesca N. Penzani
"My heart's beating inside myself, inside yourself, the heart of the earth. I am here are you? Can you see me? Can you hear me?" Based on a dream to bring Two Women together to create a collaboration that celebrated the joy of being alive, DOUBLE UP is a powerful conversation, through music and dance: Nedra Wheeler on bass and voice, and Kyreeana Breelin tap dancer. This is the stepping stone for the creation of live performance and other projects to come.
It's Called Love
Directed By Stephen William Tenner
It's Called Love reflects the longings of one's heart in the quest of pure loves true embrace. Reminiscent of simpler times when Courtship Romance Passion and Purity were at the forefront of True Love.
What's Your Number
Directed By Sigal Erez
We're excited to see a new project by a female writer/director, Sigal Erez, who is re-entering the business after a break. Her previous film, a border thriller titled "Across the Line," is on Amazon Prime, as it is very relevant today. What's Your Number, which will be screened at the Marina Del Rey Film Festival on Sunday, October 21st, was accepted into many film festivals and won several awards. "Re-entering the business, I knew I had to start with taking action, not just having new screenplays. What's Your Number, for me, has a deeper layer and a nuance that I was trying to convey. Most of my new projects are thrillers, action, and comedy. In some way, What's Your Number is a small hint of what's to come," says Sigal.
My Life With Rosie
Directed By Angela Sadler Williamson
It has been nearly 63 years since the world first heard of Rosa Parks. Far from being forgotten, the woman whose name is synonymous with human rights seems to be making her presence felt everywhere. Described as an "amazing journey through the life of one of America's most beloved heroines," we see what Rosa did after she left Alabama and learn the important story behind Rosa's "lifetime of public service" in the city of Detroit.
Last Call
Directed Blake Elder
The willpower of a recovering alcoholic is put to the test when he takes shelter from the apocalypse in a sports bar.
Guitar Man
Directed By Rocky Capella
Guitar Man is about lifelong musician (Buzzy Martin) who began teaching at-risk kids' music. Through this experience he was given the opportunity to teach a music class inside San Quentin State Prison. He returns to his at-risk students with stories about the reality and dangers of prison life. Desperate to teach them that prison life is not the streetwise "badge of honor" that some of them are aspiring to claim. His message to them - the dangerous paths down which they were headed can be replaced by real hopes and dreams.
Definitely Soy
Directed By Ruben Zaccaroni
Definitely Soy is an award winning short by Ruben Zaccaroni and George Zouvelos. It is a modern day urban adaptation of David and Goliath - whereas David is the villain, and Goliath the unwitting victim of apathetic youthful treachery. Lead actors George Zouvelos, as Hugo (Goliath) and Louis R. Bacigalupo, as Ned (David).
Retail
Directed By Jonathan James
"The retirement of Abigail's manager leaves her as the last human employee in one of the oldest branches in the country. Forrester's is the largest chain of retail stores on the planet and its heavy push towards mechanization has left most of its human employees hanging by a thread. Alongside her fellow high tech machine employee "Bertie," Abigail embarks on attempting to make her role relevant in an industry where humans are now becoming surplus to requirements whilst fighting to maintain her own sanity. That said, in a world where everything and everyone is easily replaced, who at Forrester's really is safe?
The Film Festival
Directed By Brian Kennington
Two desperate Canadian filmmakers finally get their accepted to a film festival in an Australian Village.
Gringa
Directed By Claudia Murray
This bilingual dramedy short follows an overworked Cuban-American millennial rushing to pack for a trip to Havana. When her eccentric Abuelo drags her on a last-minute hunt for a rare car part, she confronts her own privilege in a race against the clock. Featuring a diverse cast and filmmaking team, this film about a woman trapped between two worlds tells a universal story about family, priorities, and not playing into others' superficial expectations.
Unlawful Justice
Directed By Chris Baxter
When a financially struggling LAPD officer relentlessly works to meet an unspoken arrest quota for a promotion, he's thrown on a deadly collision course with an inner-city teenager determined to escape poverty at all costs. Unlawful Justice is a film that explores why good people often do bad things. Everyday people break the law, but it is justified? Unlawful Justice explores why and how we all do this and the shocking consequences you never see coming.
My Brother Wes
Directed By Tom Suzuki
Things go majorly wrong at a local inner-city bodega when a shoplifting prank takes a wrong turn. A true to life story of two brothers growing up in the inner city.
Detestable Practices
Directed By Joe Rosenberger
There is lightness and darkness within us all. Earl has been pushed to the edge and the darkness is filling his thoughts. His wife has become obsessed with Judgment Day...and has left herself open to the darkness of jealousy and hate. Evil is rising within them both, but who will control it?
Apacheria
Directed By Joshua Gollish
New Mexico, 1884. A mother is left for dead, husband murdered and son abducted; but when she awakens, having been rescued, she must hire an Apache tracker to go into the wild to find her son.
The Marina del Rey Film Festival is an independent film festival located in Los Angeles. The festival provides independent filmmakers from around the world a platform to showcase in the film capital of the world Los Angeles.
To learn more about the Marina del Rey Film Festival, please visit:
www.marinadelreyfilmfestival.com
Contact
Marina del Rey Film Festival
Jon Gursha
818-633-5404
http://marinadelreyfilmfestival.com/
Marina del Rey Film Festival
4640 Admiralty Way Suite 500
Marina del Rey, CA 90292

Contact