Ovarian Health: A "Healthy Tuesdays" Event at Maison Beljanski Oct. 30
Food, drink, music + the expertise of doctors and health/wellness specialists = Healthy Tuesdays to help you Feel Better Naturally; Experience a unique new networking and educational opportunity at this event, which is devoted to Ovarian Health.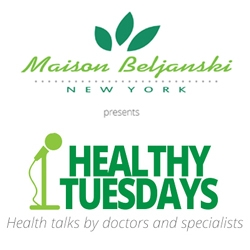 New York, NY, October 19, 2018 --(
PR.com
)-- Date: Wednesday October 30, 2018
Where: Maison Beljanski
317 E. 53rd St., New York, NY 10022
This event is open to the public. Please RSVP at
bit.ly/HealthyTuesdays1030
Keynote speakers will be Dr. Dana Cohen, Dr. John Hall, and Dr. Richard Firshein.
Time: 6:00 to 9:00 pm
Event Program:
6:00 to 6:45 pm - Meet & Greet Socializing, Buffet, Wine, Water and OnkoTeaTM
7:00 to 7:30 pm - Dr. Dana Cohen - Cutting-edge analysis on how hydration is vital for energy, weight loss, and healing
7:30 to 8:00 pm - Dr. John Hall - Groundbreaking research from Beljanski Foundation on natural plant extracts effect on Ovarian Cancer
8:00 to 8:30 pm - Dr. Richard Firshein - Revolutionary investigation of Allergy, DNA, Nutrition, Gut Biome and Metabolism
8:30 to 9:00 pm - Socializing, Dessert and Goody bag
For Full Schedule of Upcoming Events Please Visit www.maisonbeljanski.com
Any questions concerning eligibility, costs, program benefits, etc. should be addressed to:
Maison Beljanski 212-308-7066
Maison Beljanski was created to empower people to enhance their health through educational events, holistic coaching, and high-end, exclusive, natural products sourced from nature and perfected by science to help you Feel Better Naturally. For more information please visit the store at 317 E 53rd Street, New York, NY 10022, www.maisonbeljanski.com or email info@masionbeljanski.com.
Contact
Maison Beljanski
Nick Gogel
212-308-7066
https://www.maisonbeljanski.com/

Contact