BalanceDiet™ Expands Licensing Programs with New Additional Categories Available for Licensing
Popular Healthy Living Brand Expands its wares into the kitchen with licensing opportunities for cooking, small appliances, spices, ingredients, and Home Goods.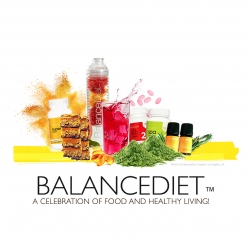 Los Angeles, CA, October 24, 2018 --(
PR.com
)-- Health and wellness brand "BalanceDiet™" has expanded its North American licensing has announced today the launch of the BalanceDiet licensing program to allow manufacturers to license BalanceDiet's trade dress, formulations, and/or proprietary ingredients for distribution. The program will expand BalanceDiet's healthy lifestyle services and offerings to give consumers more choices.
"Consumers love the stylish and fresh appeal of BalanceDiet, and manufactures seek out the contemporary trade dress to help them spice up everyday products," commented Michael Shapiro, Development Officer for the brand.
BalanceDiet applies its "Celebrate Food and Healthy Living!" mantra, combined with collaborations with artists, professional trainers, and celebrity chefs to transform ordinary meals, kitchen appliances, and ingredients into fun, stylish, and well-packaged products.
The company has been offering its "BalanceDiet Approved" seal of approval via a merit-based licensing system since 2005, and recently expanded to include small batch proteins, and select supplements via licensing. BalanceDiet will now expand its licensing categories to include kitchen goods, "seal of approval," ingredient licensing, spices, packaged foods, aromatherapy, as well as food based concept stores.
The global weight loss + "healthy living" products market reached $586.3 billion in annual sales in 2015, with North America representing nearly 43% of total revenues. The market continues to grow and is expected to hit a record CAGR (compound annual growth rate) of 10.1% from 2010 to 2016.
The BalanceDiet Licensing Program is managed by Miami-based Leisure Growth Holdings, with collaboration from established licensing agents. The brand and platform, food and ingredient research and extensive trade dress are available for license, with more information available at
www.BalanceDietLicensing.com
.
Contact
BalanceDiet
Danny Mathers
917-412-5437
www.goBalanceDiet.com

Contact