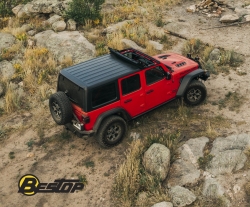 Louisville, CO, November 05, 2018 --(
PR.com
)-- Bestop, the nation's leading manufacturer of premium Jeep® soft tops and accessories, wants to make it even easier for consumers to experience the open-air fun of driving a Jeep® Wrangler. So, just in time for the holiday season, the company has announced special, limited time pricing on its very popular Sunrider for Hardtop for both the all-new Wrangler JL and the JK (model year 2007-2018).
The Sunrider for Hardtop is an all-weather, year-round replacement for the front hard top panels on a Jeep. It comes completely assembled, making the installation incredibly easy in less than 45 minutes. Its unique folding design lets the Jeep owner flip the panel back for an open-sky ride, in just seconds. If weather comes in, it is simple to pull it forward to close.
Special introductory pricing, which is available through Bestop distributors, authorized retailers and through Bestop.com for a limited time until November 30, 2018, lowers the consumer price of the top by a whopping $200, more than 20% off the regular price. The vinyl version of the top will be $499 for this limited time, down from $699. The ultra-premium black twill version will be $599, down from $799.
The pricing announcement comes at the perfect time, just as Bestop is preparing to begin shipping the Sunrider for Hardtop for the all-new Jeep® Wrangler JL. The top represents the first premium soft top available for the all-new Wrangler. Bestop has also extended the limited time pricing to the previous model, the Wrangler JK (model year 2007-2018).
"Every consumer who has tried the Sunrider for Hardtop has absolutely loved it," says Bestop CEO John Larson. "And we want even more people to try it out. Summer or winter, Chicago or Los Angeles, rain or shine, there has never been a better time to buy the all-season Sunrider for Hardtop."
About Bestop
Born in the outdoor mecca of Boulder, Colorado, Bestop (pronounced "Best-Top") got its start in 1954 with a few custom Jeep tops sewn together in a small upholstery shop. From those bootstrap, do-it-yourself early days, Bestop has grown into the world's largest manufacturer of premium soft tops and accessories for Jeep vehicles, and the sole supplier of factory soft tops to Jeep for more than three decades. Now 64 years young, Bestop has maintained its commitment to providing the highest quality and durability to the consumer – and is still based in Colorado, where employees have access to the ultimate product test lab: The Rocky Mountains. Bestop Premium Accessories Group includes several other premium automotive accessory brands: Baja Designs (premium LED lighting), Tuffy Security Products (secure storage containers for Jeeps and trucks), PRP and Status: Racing seats and accessories for off-roaders and UTV enthusiasts, and SpeedStrap super high-quality recovery straps. For additional information, visit www.Bestop.com.