eCommerce in Russia Will Grow by 170% by 2023 Giulio Gargiullo Responds to Morgan Stanley's Study: "Strong Growth and Opportunities for Companies"
E-commerce in the Russian Federation is speeding ahead as reported by expert in digital marketing in the Russian market, Giulio Gargiullo, according to data from Morgan Stanley. Russian e-commerce reaches a figure of 30 billion dollars in 2018, while with growth of 170%, a figure of 46 billion euros is predicted by 2023.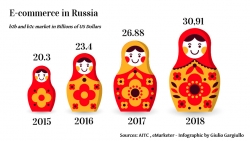 Rome, Italy, October 30, 2018 --(
PR.com
)-- E-commerce is experiencing years of economic growth in Russia. Last year, it reached a figure of 13.7 billion euros and it's expected this to grow to 17 billion euros for 2018. According to a report from Morgan Stanley, via EWDN, Russian ecommerce will reach a figure of 46 billion euros in 2023, thus achieving growth of 170%. On the one hand, Russian digital e-commerce has a share of 3% the retail sector, while internet penetration accounts for 80%, with growing smartphone use accounting for 66%.
Russian movements in the digital and e-commerce sector are significant, as pointed out by
Giulio Gargiullo, expert in online marketing in Russia
: "As for the stakeholders, they are representative of some of the Russian giants, as seen in recent days when we learned about the strategic agreement between Sberbank – the largest bank in Russia – and Yandex – the main Russian search engine – for the launch of a 'Russian Amazon.' The marketplace, modelled on the American giant, is called beru.ru and is currently in beta."
Gargiullo continues: "E-commerce is growing in Russia, thanks to the ending of the crisis and the increase in internet and mobile connections in many places. The areas where most online purchases are made are the large cities such as Moscow, St. Petersburg and Ekaterinburg. On the one hand, electronic commerce based in the Russian Federation is growing, providing users with a series of advantages such as 'Made in Russia,' speedy deliveries, localisation, better logistics and the domination of large local stakeholders. On the other hand, cross-border e-commerce continues to grow, mainly due to purchases from China (90%), the European Union (4%) and the USA (2%). In economic terms, e-commerce from China accounts for 52%, with 23% from the EU and 12% from the USA. The main sectors of e-commerce in Russia, according to DataInsight 2018, are as follows: tourism, including hotel reservations, tours and airline tickets, at 27% with regard to electronic and technological products; fashion, shoes and accessories at 21%; various products at 18%; home and DIY at 11%; auto parts at 6%; beauty and health at 4%; books at 4%; children's products at 3%; food at 2%; and other products at 4%."
About Giulio Gargiullo:
Giulio Gargiullo is an Online Marketing Manager that for many years has worked between Italy and Russia and at an international level with companies and other leading facilities linked to different sectors in the domain of luxury. Giulio Gargiullo fluently speaks Italian, Russian and English and is involved in bringing new customers and business opportunities to companies worldwide through advanced business activities and digital marketing. He is also responsible for building privileged relations between business partners.
Media contacts:
Giulio Gargiullo
info@giuliogargiullo.com
www.giuliogargiullo.com
Phone: +39 0698381363
Contact
Giulio Gargiullo Digital Marketing Manager
Giulio Gargiullo
+39 0698381363
www.giuliogargiullo.com

Contact